Georgia Jones'S PROFILE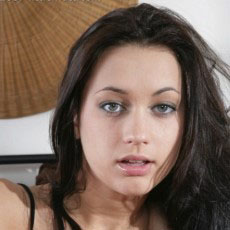 Georgia Jones
pornstar details
Date of Birth: 4/04/1988
Ethnicity: White
Height: 160cm
Eye Color: Grey
Hair Color: Brunette
Georgia Jones is a Southern Belle brunette type, although she lacks the demure disposition proper Southern ladies often possess, since she can be seen fucking women with a strap-on and licking their pussies all over the internet, and on some DVDs too. The girl is a smart cookie, who is also a bit introverted. She likes to stay home and rub her pussy instead of going to loud parties or other events. She's also somewhat of a sci-fi geek with a particular fixation which is vampires. Georgia especially loves Anne Rice's works of fiction involving the mythical immortal creatures.
Georgia Jones has been a lady lover from the start. When she was growing up she had a major crush on her best girlfriend, who was supposed to be just a friend. Even though she is bisexual in her personal life, Georgia thinks women are more playful and creative in the sack than men, who sometimes get too serious while fucking for her tastes. When she fucks a dude in her personal life, she loves to lie down flat on her stomach while getting pummeled. In fact, it's her favorite sex position for sex with a cock. As for women, Georgia prefers redheads and big all natural titties that are perfect for groping and sucking on. According to one interview, Georgia Jones would love to try being a guy for a day, just so she could see what it's like to fuck with a real dick instead of a strap-on.
When Georgia Jones, who is from Arkansas, turned 18, she made her entrance into the adult industry by stripping in a club. Soon, she had some modeling gigs, mainly for amateur photographers or small shoots, but a year later, at 19, Georgia decided to take the plunge into carpet munching on camera. In her porn work, she only fucks ladies, so you'll just have to imagine her getting plowed by a guy's big cock instead of a strap-on, if that's what you want to see. Just because she only fucks ladies on camera, doesn't mean she is not a dirty, nasty slut like most porn stars. Georgia Jones admitted to an interviewer that she had sex outdoors in a baseball field next to a big highway at 3 in the morning one time. Clearly, she has a voracious sexual appetite that can only get satisfied by showing the world how much she loves to fuck.
MORE PORNSTARS YOUR MIGHT LIKE
BACK TO PORNSTARS