Charlie Laine'S PROFILE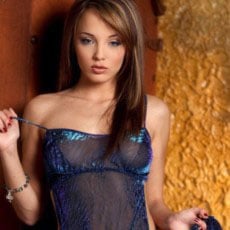 Charlie Laine
pornstar details
Date of Birth: 31/01/1984
Ethnicity: White
Height: 160cm
Eye Color: Blue
Hair Color: Brunette
Sexy Brunette Charlie Laine is the lucky kind of porn gal who has the support of her family. She says they love her and just want her to be happy, and don't care if she is fucking on camera for a living, or doing something else, as long as she is healthy and content. During her time in the industry she's also had three boyfriends who were very supportive of her career choice. Laine wasn't always the beautiful, confident girl she is today. She started out as an awkward looking geek who dreamed of becoming a model but despaired, thinking that could never happen for such a dork. She came up with an alternative plan to become a counselor. Luckily, her dreams were able to come true when the ugly duckling became a swan just around her 18th birthday.
On camera, Charlie is a strictly girl on girl or masturbation type of performer. However, it's not because she doesn't like guys. She says she is bisexual, and actually prefers to date men. She told one interviewer that her favorite type of guys are muscular, confident and humorous. She also has a thing for dudes with a goatee. Laine also loves to perform in movies made in the BDSM dungeon, with bondage and tickling. That genre of movies makes up quite a large percentage of her almost 400 film deep body of work.
Laine's journey to moving to Los Angeles full time in 2003 to become fully immersed in porn was a short one. She dropped out of high school in 2002 to go to Florida from her Wisconsin home town to try underwear and swimsuit modeling. Things didn't work out too well in the Sunshine State so she moved back home, but shortly after posting a profile on a modeling site, an agent contacted her and she decided to give it a go. She immediately got booked for work in magazines like Hustler and Penthouse.
Charlie's fame goes beyond porn. She also uses it for advocacy, which she thinks is important. In 2010, she participated in the Free Speech Coalition's Anti-Piracy PSA, which made the important point that consumers should not simply download their porn from torrent sites, they should get it from safe and authorized websites.
It seems that Charlie Laine is here in the adult industry to stay. She told one blog that she loves shooting porn since it allows her to be herself and has given her a lot of confidence. She also finds her fellow porn stars and crew members supportive. We're very glad, and you will be too, to see her videos on Mr. Porn Geek!
MORE PORNSTARS YOUR MIGHT LIKE
BACK TO PORNSTARS