Mia Smiles'S PROFILE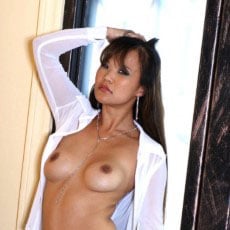 Mia Smiles
pornstar details
Date of Birth: 21/09/1977
Ethnicity: Asian
Height: 170cm
Eye Color: Brown
Hair Color: Black
Mia Smiles is an Asian American woman who was born in Seoul, South Korea, and has long black hair and brown eyes, and she's quite tall as far as Asian women go, standing at 5 feet 7 inches and weighing in at a slender 112 pounds. Her measurements come in at an all-natural 32C-23-34 making her sleek and feminine in silhouette. Mia has no piercings other than her ears, and she has but one tattoo, a black sun on her right shoulder blade. Mia has been credited with a few alternate names over her long-running and prolific career, including Kim, Kona, Kina, and Mia.
Her career in adult film started in 1996 when she was approximately 19 years old. She was working several 'normal' jobs, had just given birth to her son, and was struggling to make ends meet and properly look after him with all the demands that work made on her time. as luck would have it a career in porn was a perfect fit for Ms. Smiles as she would be able to work on her own schedule, and as little or as much as she saw fit, was significantly more money than she was earning previously.
While she was not entirely comfortable with becoming a pornstar, avoiding industry events and leaving her 'work' being when she left the set, eventually the shy and reserved Mia gained the confidence to own her persona. Mia credits fellow performer and long-term boyfriend, Chris Cannon, with this transformation in attitude, and indicated in an interview that he boosted her confidence both on and off-set.
Over the course of her approximately 16 year career in adult films, Mia appeared in over 365 titles, and for a long while it seemed that one couldn't produce an Asian girl porn production without having Mia Smiles in the cast. In 2011, she was named to Complex Magazine's 50 hottest Asian Pornstars of all time, commended her continued evolution over the course of her long career.
While Mia quit and rejoined the business a few times, the most recent absence has been the longest-running and likely permanent exit of this Asian beauty, who always seemed torn between her passion for sex and maintaining a sense of public propriety, in interviews she noted that it made her uncomfortable that so many people recognized her, and while she was grateful that fans always gave her space when she was out in public with her son, her sense that people were recognizing her weighed on her psyche.
Mia always said that she really wanted to settle down and have the proverbial house with a white picket fence, and who knows? She may have found it. On the other hand, what you have found is a curated collection of Mia Smiles' hottest performances, all in one place and available instantly, and on demand: Mr. Porn Geek!
MORE PORNSTARS YOUR MIGHT LIKE
BACK TO PORNSTARS