Lauren Phoenix'S PROFILE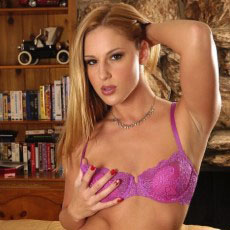 Lauren Phoenix
pornstar details
Date of Birth: 13/05/1979
Ethnicity: White
Height: 178cm
Eye Color:
Hair Color: Brunette
Lauren Phoenix is a lovely, statuesque, blonde Canadian pornstar, standing in at a tall 5′ 10″. In interviews, she's stated that her favorite type of porn movies to shoot are features, even though the majority of her work on screen has been in the form of gonzo XXX movies. Ms. Phoenix really loves the chance to learn lines and truly take on a sexy role, as opposed to just straight-up fucking, though of course she enjoys that as well. She describes herself as a naturally slutty and hyper-sexual person, and for her, being a pornstar is very natural, since she's always had a high sex drive and a love of sex, the dirtier the better. She also describes herself as an exhibitionist and her favorite place to masturbate is inside of a tanning booth, where Lauren can relax and let her mind wander to whatever sex fantasy that comes to mind, bathed in the warm glow of UV light.
Lauren is a smart girl with musical talents. In college, she studied classical music as well as jazz and blues. Perhaps she uses some of her learned performance techniques in the hot porn in which she stars. When she turned 20, Lauren Phoenix became a stripper to help pay for her college expenses. At first she just danced and took her clothes off in and around Toronto, but as her fame and skill grew, Ms. Phoenix danced in clubs in far away cities like Las Vegas, and even toured strip clubs in the UK. When dancing, Lauren says she prefers older customers because they know how to be a gentleman.
Lauren made the jump to porn when she wanted to make some extra money. She and her boyfriend decided to try to film their own porn, but that didn't work out too well, so eventually she moved to Los Angeles to start shooting hardcore interracial and other super freaky porn movies. Unlike many up and coming pornstars, Lauren didn't put off any sex acts like anal, and interracial, diving right in to the deep end of the pool. You can see Lauren Phoenix yourself in one of her favorite porn movies she ever shot, right here on Mr. Porn Geek. It's called Blonde Eye For the Black Guy and was made by Coast to Coast. Lauren gets fucked by 2 black dudes who have enormous cocks. Lauren also does one of her favorite activities – double penetration, in which one cock penetrates her wet pussy and the other stretches her asshole, loving feeling of having her holes filled. Make sure you watch this and all of Lauren Phoenix's movies on Mr. Porn Geek!
MORE PORNSTARS YOUR MIGHT LIKE
BACK TO PORNSTARS