Anya Ivy'S PROFILE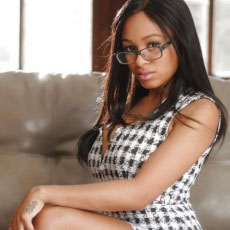 Anya Ivy
pornstar details
Date of Birth: 28/01/1992
Ethnicity: Ebony
Height: 157cm
Eye Color: Brown
Hair Color: Black
Who wouldn't want to fall in love with a delicious ebony pornstar like this? Anya Ivy is a beautiful woman that happens to fuck for a living and Mr. Porn Geek loves watching her scenes when he's hot for some black babe action. Born and raised in Atlanta, Georgia in the United States, Anya Ivy was born in 1992 and started performing in adult entertainment around the start of 2014. She's relatively active on social media and has become something of a popular name, amassing a total of 100,000 followers on Twitter by the start of 2017. She updates her feed about five times a day with a mixture of images from professional shoots, personal thoughts about the world and of course, selfies that'll make you nut over this ebony pretty much instantly.
You can also follow Anya Ivy on Snapchat for free (@anya_ivy), check out her Instagram feed or pay a visit to her blog. Although she clearly has a great time having sex in front of the camera, Anya Ivy has a real passion for photography and enjoys travelling around the world. She has an artistic side that many people miss, which is fair enough, but damn – this girl can really produce a great piece of art when she wants to! If you'd like to delve deeper into the mind and thoughts of Anya Ivy, it's a good idea to visit her blog (MyIvyDiary.wordpress.com) – she's actually a great writer: probably better than Mr. Porn Geek himself!
Anyway, back to the sex: Anya Ivy's appearances in adult include appearances for Brazzers, Dogfart, and Reality Kings. Pretty much nothing is off-limits for Anya Ivy and if you really want to see an incredible scene of hers, be sure to check out the time she featured at Round & Brown. Should anything make you fall in love with ebony ladies, it'll be that scene!
MORE PORNSTARS YOUR MIGHT LIKE
BACK TO PORNSTARS