Faye Reagan'S PROFILE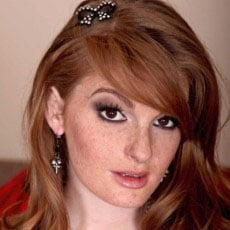 Faye Reagan
pornstar details
Date of Birth: 19/09/1988
Ethnicity: White
Height: 163cm
Eye Color: Brown
Hair Color: Red
Faye Reagan is a redheaded and freckle-faced pornstar who was born and raised in Las Vegas, Nevada. She is married to male performer Dane Cross and they reportedly share an open relationship. The swinger lifestyle is normal to Faye and she has been quoted as saying that she knows the difference between right and wrong, but being right is too boring. The couple does perform together quite often but as expected they are not exclusive partners which is great news for porn fans who love to see variety. The one thing that she considers off limits is anal sex which she has never done on camera before. She is fine with giving rimjobs and receiving them, but tongue and cock are very different and she won't let anyone penetrate her there as of this writing and maybe ever.
Miss Reagan is known for her very pale skin, cute freckles, nice natural tits and of course her lovely natural red hair. Her enthusiasm for sex is also very apparent and even without the other qualities she would still be a well loved performer. While some other pornstars may be just getting through their scenes, Faye doesn't ever want the scenes to end because she is so into getting fucked hard and well! Her face often appears on the DVD box cover for her movies and there have even been a couple with her name in the title. Faye had her very first interracial scene in a film called "The Gauntlet 3" and she later participated in a 23 man gangbang scene.
Faye Reagan appears in a lot of pictures and magazines as well as more than 250 porn movies. She is one of these rare pornstars who has an enduring fan base who patiently wait for every new picture or movie scene that might be released. She has been nominated for many different awards in categories like Best Solo Sex Scene, Best Group Sex Scene, Best Oral Sex Scene and even Best New Starlet. Fans were surprised and happy to see her using the name "Jillian" in a mainstream print ad, but happier still when she made her way back to getting fucked on camera shortly afterwards. Make it a point to watch a few of her scenes on Mr. Porn Geek so that you can get a taste of this great girl for yourself.
MORE PORNSTARS YOUR MIGHT LIKE
BACK TO PORNSTARS