Naudia Nyce'S PROFILE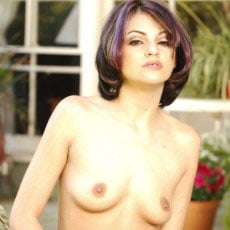 Naudia Nyce
pornstar details
Date of Birth: 28/11/1982
Ethnicity: White
Height: 163cm
Eye Color:
Hair Color: Brunette
Naudia Nyce is a pretty, brown-eyed brunette American pornstar of German, Swedish, and Portuguese descent, from the city of Sacramento, California, though she has appeared with a number of different hair colors over the course of her career. Standing at 5 feet 4 inches, and weighing in at only 103 pounds, her body measurements are 34B-26-36, and her form is completely natural, with no ' breast implants. While she has avoided going under the knife, she does have a couple of tattoos, one on her right shoulder and the other, a heart pierced by two swords on her abdomen to the right of her navel. Other than her ears, her navel is the only body part that she has pierced. Her career has seen her credited under several alias names which include Nadia Nice, Natia Nice, Naudia Nice, Naughtia Nyce and Nautia, and finally, and most confusingly, Naudia has been credited several times as Nadia Nyce, a name already in use by a South Asian Indian performer from the UK.
Naudia describes herself as a tomboy when she was growing up, which probably accounts for her ease in interacting with the opposite sex. By all accounts, Naudia is a real party girl, she's had several run-ins with the law for her outlandish behavior, and famously got arrested at a Los Angeles airport, in possession of drugs, which led to her being shipped upstate to answer several outstanding warrants. As a real-fife party girl, Naudia was getting double penetrated before she had ever set foot on a porn production's set, and her freewheeling and adventurous nature served her well, becoming what those in the industry affectionately term a 'yes girl,' generally up for anything the producers can dream up.
Her career in adult film started in 2002, when she was around 20 years old; she was working as a dancer in a strip club in Santa Maria, California, a big step up in money and adulation from her previous job as a tour guide for a gold mine tourist attraction. Her customers were frequently telling her that she was too pretty not to take the leap into porn, and finally one night, a patron approached her and told her he could get her movie gigs in Los Angeles, and she took him up on his offer.
Once she got out in front of the cameras, Ms. Nyce made quite a name for herself, taking on challenging anal sex, interracial, gangbang and double penetration roles. Her outstanding performances did gain her at least one major award nomination, in 2004, when she was nominated for an AVN Award for 'Best Couples Sex Scene – Video.'
Over the course of her career, Naudia reportedly got off of drugs and became more responsible, though it did not negatively impact her career, and recently has appeared in some MILF productions, transitioning from her previous genres to this new one, and surprisingly she has found religion, though in a sex-positive way, using her off-duty time to study the bible and religious texts. In an interview Naudia talks about how she would like to'help people who are having a hard time in life, particularly girls who are facing the struggle with drug addiction, as she knows first hand how an addiction can make you lose your way.
With over 300 titles credited to her name, this beautiful performer has brought an eagerness to her roles that few in the industry can match, and Mr. Porn Geek has some of her best movies available instantly, and on-demand for your viewing pleasure.
MORE PORNSTARS YOUR MIGHT LIKE
BACK TO PORNSTARS