Missy Monroe'S PROFILE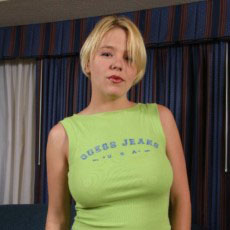 Missy Monroe
pornstar details
Date of Birth: 22/08/1984
Ethnicity: White
Height: 165cm
Eye Color:
Hair Color: Brunette
Missy Monroe is a blonde pornstar who was born in Las Vegas, Nevada. Her mother was a nurse working the night shift and her father was a man who would work many different jobs to earn a living. As a result she often had a lot of free time to spend alone while her parents were busy earning money. When her parents split up in her teen years, she became rebellious and would often require some disciplinary action from school and at home. Her reputation around town was of a bad girl who would date lots of guys and even girls at times. When she turned eighteen it was a small wonder that she even graduated, and not much of a surprise when she turned to the adult industry to look for work. Before she went that route though she held some typical entry level jobs such as restaurant worker and sales clerk. From there she turned to stripping and showing her sexy well formed body and the money was quickly starting to come in.
Ironically when she turned nineteen the laws in her town changed making it no longer acceptable or her to work at strip clubs, but working in porn movies was fine so she made the jump to working in the porn business.
Some of Missy's first jobs after stripping were in the print field and she had some really great photo-shoots that lead to more opportunities. Once she began working in hardcore movies, she let it all hang out so to speak and went full anal right away. A lot of pornstars new to the business will only work with girls or only film with guys screwing their pussy. Instead she went all the way right away in order to secure as many scenes as she possibly could in the shortest possible amount of time. This helped her win the XRCO award in 2004 for Best Group Sex Scene. The award was for her performance in the movie "Baker's Dozen 2" which was produced by Platinum X Pictures. She has three scenes in the film and an additional bonus scene on the DVD. For a rookie to the business it's quite a full plate of sex scenes but she handled it like a professional and it shows.
Missy Monroe is still very active in the industry with more than 510 movie titles in her filmography. She has sat in the directors chair on one film too and loves to work all the angles in the business. She has said on more than one occasion that she would love to make this her career for her entire life whether it's in front of the camera or behind it and she is well on her way. Mr. Porn Geek is happy to offer many of this great girls best hardcore sex scenes and more of them will be added just as soon as they come to our attention.
MORE PORNSTARS YOUR MIGHT LIKE
BACK TO PORNSTARS