Brooke Haven'S PROFILE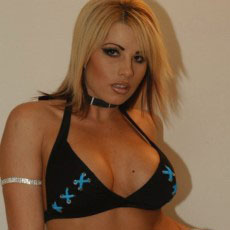 Brooke Haven
pornstar details
Date of Birth: 25/11/1979
Ethnicity: White
Height: 157cm
Eye Color: Brown
Hair Color: Brunette
Brooke Haven is a blonde bombshell from Arizona who has been very sexually active. She started her sex career as an adult dancer as soon as she turned 18 years old. After that Brooke moved around the country to pursue her dream of feature dancing and finally landed in Phoenix, Arizona where she met fellow pornstar Lexi Marie. The two did a sexy photo shoot together, and Brooke started dipping her toe in the porn waters. Ms. Haven already knew she was into girls, since the bisexual starlet had already her first lesbian experience when she first started stripping for a living.
Brooke's friend Lexi saw a burgeoning sexual talent in her, and introduced Brooke to an agency who signed her immediately. Since then, Brooke Haven has enjoyed making porn movies of all different sorts. In her first year of fucking for fun and money on camera, she did it all – lesbian sex videos, hardcore guy on girl sex, and even double penetration gangbang scenes. However, in 2008, Brooke decided to stop making XXX boy/girl films, and went strictly to lesbian videos and solo pussy play on camera. Now she only performs with other girls. Brooke also has an interest in acting and has made appearances on some mainstream TV shows, showing she has true universal appeal and acting ability.
Check out Brooke Haven's sexual talents right here on Mr. Porn Geek in porn DVDs like Beautiful, Horny & Fucking Dirty 5 by Rapture Entertainment. Brooke enjoys a hard pounding from a big dick in this hardcore sex movie even more than most others because she was really into her costar at the time. You can tell Ms. Haven was made for fucking on camera by the way it all comes so naturally to her. A natural born exhibitionist who loves getting attention for being beautiful and dirty, especially when she is featured on the box covers of the porn movies as a reward. However, it wasn't always that easy for her. When Brooke started in the adult industry, she was a bit on the heavier side. Brooke got serious about porn when she decided to get physically fit and shed some of her curves to earn more as a covergirl on her way to all the glory that comes from being one of the most popular big tits blonde babes anywhere in the world.
MORE PORNSTARS YOUR MIGHT LIKE
BACK TO PORNSTARS