Mae Victoria'S PROFILE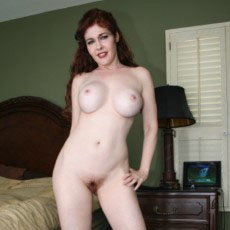 Mae Victoria
pornstar details
Date of Birth: 6/01/1969
Ethnicity: White
Height: 152cm
Eye Color:
Hair Color: Red
Mae Victoria is a redheaded MILF from Canada, standing at 5 feet tall and 110 pounds, Mae nonetheless has impressive measurements of 32D-34-35. Calling herself not family friendly, just friendly, she has been a sex worker, or as she puts it, has worked in 'erotic services' for most of her adult life, saying she could have been a prostitute or a waitress, the only difference being the length of the menu.
Mae was providing 'erotic services' when the economy faltered in the mid-2000s, and went into porn in her mid-thirties to increase her appointments, while the business stereo-typically tends to cast women in their early twenties, she arrived just in time for the rising popularity of the MILF genre, and with her good looks, amazing bustling and willingness to anything on camera, found her in high demand.
Being a sex worker, and a very self-assured woman served her well in the porn business, being at ease on the set, and eager to take a cock in her ass, appearing in over 100 titles, and doing everything from lesbian sex scenes to interracial performances. Her beauty landed her in the pages of print publications as well, appearing in Swank and Gallery magazines.
In addition to her porn and escorting work, she has also performed as a professional belly dancer, and most recently she is pursuing a career as a standup comic. Her personal life, by all accounts is relatively tame, and she describes herself as obsessed with health and firmness, and organic foods and natural remedies, growing her own food and herbs in her garden, which she incorporates into another one of her interests, cooking.
Having been a professional singer her latest project, doing standup comedy is hardly the first time she's been on a stage, it's safe to say that Mae is a natural born performer, whether it's making people laugh or making them hard, it's all just eliciting a response to a performance. In her stand-up act and in interviews, Ms. Victoria rails against the stigma that society imposes on sex workers, saying that they provide an undeniably valuable service, and for all the fascination many have about the porn business, in the end, no matter how enjoyable it is, it's a performance, whether that performance makes you laugh, makes you emotional or makes you cum, it's her calling to get up there and elicit that response.
An outspoken woman, Mae feels that feminists that are against porn and sex work are having the wrong fight, that removing the stigma against those who engage in sex work and appear in porn is more constructive, and noting all the negativity, ostracism and criminalization that society has thrown at women in the erotic services business hasn't accomplished anything other than to marginalize woman who are trying to make their way through this life using the resources at their disposal.
It's sometimes hard to discern the difference between Mae the performer and Mae the person, and in her standup act she jokes about her work as a hooker, which can make audiences uncomfortable, but to her, it's surprising to her how many jokes she's heard in other acts that demean pornstars, or have a dead hooker as part of the joke, which she asserts is all part of a larger dehumanizing agenda among those who seek to subjugate women.
Mae filmed her last porn production in 2010, and is pursuing her standup career full time presently, but Mr. Porn Geek has a collection of her hottest performances right here on demand for your viewing pleasure!
MORE PORNSTARS YOUR MIGHT LIKE
BACK TO PORNSTARS