April O'Neil'S PROFILE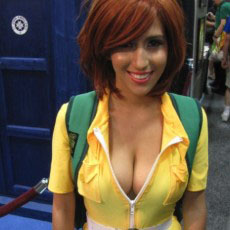 April O'Neil
pornstar details
Date of Birth: 7/04/1987
Ethnicity: White
Height: 155cm
Eye Color: Brown
Hair Color: Black
Mexican-American pornstar April O'Neil was born in Phoenix, Arizona and she is an Aries for followers of the zodiac. Her petite 5 foot 1 inch body is all of 88 pounds and she definitely fits the profile of a pocket girlfriend. One of those girls who is so cute and petite that you can practically carry them around in your pocket. She has deep brown eyes that can fool you into thinking she is innocent when in fact a hunger for sex is always burning inside of her. The fact that she has a small frame really highlights her natural 32D breasts, making them seem even larger. Reportedly she took her stage name from the Mutant Ninja Turtles story because she is such a big fan of the storyline. It's also a clue into her mind which is enough to make a nerd cream his jeans.
April talks in her personal blog about how she began working in porn. In late 2008 she happened to meet pornstar Kylee Reese at a party and they began talking about what it was like. According to her blog entry, she started telling her about how she could even start out by limiting herself to just lesbian scenes so that she could see how it works out. Well, she did try that route and loved it a lot and that's why she began working with male performers only a short time later. She signed with a popular, well known and respected talent agency based out of Los Angeles, California where she has expressed her willingness to perform in many types of scenes. So far as of this writing she has not done any anal sex scenes nor has she taken a black cock in any interracial scenes.
April O'Neil has performed in more than 160 porn movies so far and in many of them she has multiple scenes. While most of her work is lesbian and all-girl affairs, she has also done some great hardcore and facial cumshot scenes. Her official Twitter account has more than 92,100 followers at this time and she tweets very frequently every day. Born in the era when people tend to showcase their entire lives in minute detail on the internet, she has fully embrace the medium in a big way. Even earning for herself the AVN Twitter Queen award in 2013. PornHubPremium has her greatest scenes and eagerly waits to add each additional scene she makes as they become available.
MORE PORNSTARS YOUR MIGHT LIKE
BACK TO PORNSTARS