Julie Knight'S PROFILE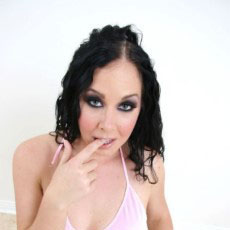 Julie Knight
pornstar details
Date of Birth: 2/07/1978
Ethnicity: White
Height: 163cm
Eye Color: Green
Hair Color: Brunette
Julie Night is a hot brunette porn star, who has sometimes been a blonde during her sex video career. Originally from Los Angeles, California, which is where most porn gets made, her all natural body and natural 34C tits, along with a tight 27 inch waist and a gorgeous 35 inch ass have made Julie Night a very popular performer because it's rare to see such a pretty girl do such nasty things! Guys love watching Julie Night get laid, and her male and female co-stars play so many sex games with her. Julie has some tattoos, including a sun around her belly button and some piercings including one nipple and her tongue matched by body modifications and piercings that show she is one wild babe, a fact which is obvious in all her hardcore porn movies here on Mr. Porn Geek.
One movie, Lot Lizards, put out by Coast to Coast, stars Julie Night playing the part of a steamy babe who just can't get enough of fucking truckers. Julie and her friends hang out in the parking lot of a truck stop just waiting for truckers to come by and fuck them. The lonely truckers are more than happy to oblige Julie Night's unending desire for pussy poundings. Julie Night also starred in a fun porn role play movie called Debbie Goes to Rehab. The XXX film is a hardcore comedy in which porn stars enter rehab to get rid of some nasty habits, but just end up delving further into their slutty and hot sex games. For new fans of Ms. Night, this porn movie is definitely a good one to watch, since it was nominated for the Best Sex Comedy Award by AVN in 2005.
Julie Night had always been fascinated with porn, and had always been interested in performing in sexy movies. At a friend's house, she first looked at sexy magazines and old porn movies, and since that moment she was hooked. When Julie Night went to college, she started stripping to pay for the expensive tuition. The college coed then entered the porn biz in 2001 in the manner of everything she does: with a lot of gusto. Julie Night reportedly showed up unannounced at a porn studio and got a shoot in a casting call porno. Clearly Julie had a real enthusiasm for making porn. Since her start, Julie Night made almost 400 porn films, before her retirement from the skin biz in 2012.
MORE PORNSTARS YOUR MIGHT LIKE
BACK TO PORNSTARS