Ana Cheri'S PROFILE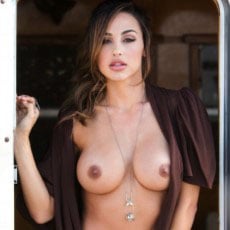 Ana Cheri
pornstar details
Date of Birth: 16/05/1986
Ethnicity: White
Height: 170cm
Eye Color: Brown
Hair Color: Brunette
Ana Cheri, also known as Ana Cheri Garcia, is an American adult performer that was born and raised in Hunting Beach, California. She stands at a rather tall 170cm and has enjoyed a decent level of success in the adult industry with her curvy figure, tanned skin and sparkling personality. Now 30 years old, Ana Cheri has focused her efforts in porn on solo entertainment, with lots of posing and solo play for studios such as Playboy. While somewhat new to being a solo tease, I certainly hope that over the years to come, Ana Cheri sees how valuable her incredible body is and gets into some hardcore scenes!
Her personal website, AnaCheri.com, started many years ago and is the main location where fans of hers will find themselves the very best of Ana Cheri. She sells branded hats, T-shirts and even skateboards. You'd also receive a lot of pleasure from checking out her YouTube channel, which has attracted over 45,000 subscribers since she uploaded her first video 2 years ago. Most of the content she shares revolves around Q&As, travel vlogs and competitions. Ana Cheri is a bit of a fitness geek and loves to devote a lot of her time to keeping in shape at the gym.
Ana Cheri has produced three eBooks, two of which focus on the development of ass using exercise as a method of plumping up the buttocks for women around the world. Entitled 'Get Fit' and 'HIIT Your Target', Ana Cheri presents several useful pieces of information surrounding dieting, exercise, weightlifting, general information about keeping in shape and a heap of specific exercises – all of which she has taken photographs of herself performing – to help others obtain a better body.
MORE PORNSTARS YOUR MIGHT LIKE
BACK TO PORNSTARS