Katie Gold'S PROFILE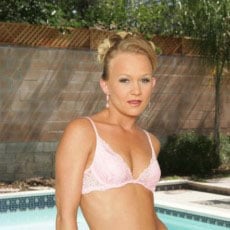 Katie Gold
pornstar details
Date of Birth: 7/03/1978
Ethnicity: White
Height: 165cm
Eye Color:
Hair Color: Blonde
Katie Gold is a sexy blonde pornstar who got her start during what many consider the "golden age" of porn in the late 1990s. Katie did her first porn movie with a friend named Shay Sweets, whom she still adores and loves fucking on camera to this very day. When Katie was 18, she started dancing in a strip club in Dallas right away, since she knew she was hot stuff and wanted to have some fun. A talent agent asked if she wanted to do porn, and Katie said yes! Before she knew it, Katie Gold was off to Los Angeles to become a pornstar.
The talent agent knew what he was looking at, and saw potential both in Ms. Gold's positive personality and sexy body. Katie has a gorgeous head of blonde hair and sweet green eyes. Her tits are tiny – size 34A, but Katie doesn't mind. She loves being part of the tiny titty committee and is proud of her all-natural body. Katie works hard to keep her waist at a trim 24 inches and her ass at 34 inches. When Katie Gold started in the porn industry, she was a college aged girl, but now Ms. Gold is one of the rare sluts who has made it into MILF-hood and is still find forging an enviable career in porn.
See Katie Gold on Mr. Porn Geek in her early pornstar years in a movie called Helen Wheels. The XXX DVD by Coast to Coast is all about southern belles with a wild side, which does mirror Katie Gold's real life since she is actually from Dallas, Texas originally. The South gets a little deeper as a cock is shoved deep into Katie's pussy as she wears cute stereotypical southern girl costumes. All the pornstars in this hardcore fuck movie wear tiny daisy duke shorts or a cowboy hat to prove their southern provenance. You can also see Katie Gold fucking in a unique porn movie called Stiffer Competition. It's a reality competition like you have never seen before. Porn stars battle it out in the ring to see who gives the best blowjobs and gets fucked the best. Does Katie win? You'll have to watch to find out!
MORE PORNSTARS YOUR MIGHT LIKE
BACK TO PORNSTARS