Jennifer White'S PROFILE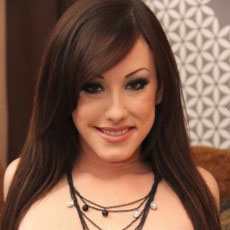 Jennifer White
pornstar details
Date of Birth: 6/02/1988
Ethnicity: Latina
Height: 168cm
Eye Color: Brown
Hair Color: Brunette
Jennifer White is a petite pornstar who hails from Agoura Hills, California. Standing at only 5 feet 2 inches tall and weighing in at just under 115 pounds, she is a slim and sexy figure of a woman. Only one tattoo appears on her body and it's on the back of her neck. Equally sparse of body piercings, she has three small ones and they are to her right nostril, tongue and navel. Her upbringing allowed her to become a big fan of the outdoors. Typical activities for her while growing up included kayaking, hiking and spending a lot of time at the beach. Jennifer has even said before that if she were stranded on an island, the three things she would want to have with her would be matches, a tent and a vibrator.
When she turned twenty one years old, Ms. White began working in the adult entertainment field as a way to make good money without needing to spend years climbing a corporate ladder. Fans and industry insiders soon learned that she is a hard working and responsible pornstar who happens to love sex and who can deepthroat a thick long cock as well as anyone else. Her attention to detail is also highly prized and because she is aware of her value, she limits her work to the best performers and avoids others. Pornstars often maintain lists of people with whom they enjoy working, and also one with names that they wish to avoid working with. Most major studios do not have a problem with these guidelines as long as the girl is worth it and Jennifer certainly is one who is worth making a few adjustments for. Her scenes include the more standard male on female dick sucking and pussy fucking variety, and lots of others too such as lesbian, threesomes and group sex scenes.
Jennifer White has more than 73,500 followers on her official Twitter account. Announcements are frequently made there concerning her next live appearances as well as any new movie release announcements and the like. So far during her career as a pornstar she has appeared in more than 250 films and she shows no signs of slowing down either. The archives at Mr. Porn Geek are filling fast with great scenes from this hardcore star and if you see them all you are bound to come back looking for more!
MORE PORNSTARS YOUR MIGHT LIKE
BACK TO PORNSTARS