Mandy Bright'S PROFILE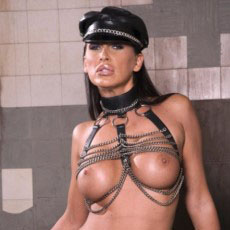 Mandy Bright
pornstar details
Date of Birth: 4/12/1978
Ethnicity: White
Height: 163cm
Eye Color: Blue
Hair Color: Blonde
Mandy Bright is a European pornstar who hails from the city of Budapest, Hungary. Her hair is naturally auburn, but she's appeared in film with a wide range of colors from peroxide blonde to jet black, and nearly every shade in-between, but no matter the role, her intense, piercing blue eyes, shapely long legs and blazing hot sexual performances are a constant, regardless of mere cosmetic changes in appearance. Standing a 5 foot 8 inches, and weighing a mere 114 pounds, her impressive body measurements of 36D-26-39 makes for one hell of a leggy, curvy package! Her breast implants are an obvious boon to her dimensions, but given her height and good proportions, she carries off the seriously large breasts without looking cartoonish. Over the course of her long and storied career in adult entertainment, Mandy has been credited under several different news, including Mandy Brigh, Mandy B., Mandi Bright, Mandy Bryght, Mrs. Bright, Moniq, Mandy, Monika, and Monica Bright, but like Shakespeare's rose, she remains just as appealing regardless of misspellings and miss-credits. Other than the aforementioned implants, Mandy has not done any body modifications, with no piercings other than her ears and no tattoos whatsoever.
As a woman who is very comfortable with her sexuality and choice of career, Mandy loves working in porn as it allows her to try all of her sexual fantasies, and get paid for it to boot! When asked in interviews if her career as a pornstar has come with any negative repercussions, she says for her there simply haven't been any, but cautions girls who are considering a career taking cock on camera to only enter the business of they have a real genuine passion for sex and have a deep-seated exhibitionist streak, which is perhaps the best advice we've ever heard from a big name pornstar. But then again, Mandy is no dummy, and she has sat in the director's chair for 11 features.
Ms. Bright has appeared in front of the camera in over 340 titles to date, after starting out in the business in 2001 in her early 20s, and has had a very active career. Her performances have gained her industry recognition in addition to legions of devoted fans, winning an AVN Award for 'Female Foreign Performer of the Year' in 2004 and an Eroticline Award for 'Best International Actress' in 2009.
While most pornstars are thought of as American, European or from some other specific region, there are some who manage to attain global acclaim by performing in many different markets. Mandy Bright is definitely one them, and her on-stage feature dancing performances around the globe have also helped to secure her time in the spotlight whether she is in Tokyo, Hungary, Dallas or Dubai.
Her hard-charging style has seen her take on challenging roles, getting gangbanged, double penetrated and has seen her in kinky productions both as a Dom and as a submissive, though he preference is to be dominated by her men in bed, whether it's in a BDSM fetish film or just some straight up sex, she strongly prefers dominant men and finds men who are even somewhat submissive to be a huge turn off.
Mr. Porn Geek has a carefully selected collection of Mandy Bright's most compelling performances right here for your immediate viewing pleasure, see for yourself why this sexy and uninhibited ladies is one of the most popular European porn starlets of all time. Her intense gaze is matched by her passionate performances, from orgies and double penetrations to the kinkiest fetish scenes you can imagine, Mandy always shines Bright!
MORE PORNSTARS YOUR MIGHT LIKE
BACK TO PORNSTARS