Veronica Rayne'S PROFILE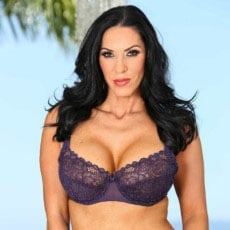 Veronica Rayne
pornstar details
Date of Birth: 29/11/1976
Ethnicity: White
Height: 163cm
Eye Color: Hazel
Hair Color: Black
Veronica Rayne is a sexy pornstar with jet-black hair and hazel eyes who was born in Newburyport, Massachusetts. Standing at 5 feet, 4 inches, and weighing only 114 pounds, she nonetheless boasts impressive measurements of 34DD-24-31, obviously helped with breast implants to achieve those impossible stats. Other body modifications include a couple of tattoos, a small frog on her upper left thigh and a small Chinese symbol on the back of her neck. She also sports a navel piercing. Over the course of her career, she has been credited under several aliases, including Veronica Riene, Veronica Raine, Bunny Halifax, Veronica Rain, Veronica, and Mia East.
Veronica was in her early twenties and was working as the manager in a nightclub when she met the man who was to become both her husband and fellow pornstar, Jack Vegas, the pair marrying in 2000. Another chance encounter with porn legend, Ron Jeremy, when she was in her mid-twenties and was working as an erotic dancer, caused her to get started on career taking cock on camera.'
Unlike so many female pornstars that slowly roll out what they are willing to do on camera, starting out with solo masturbation sessions and some girl on girl pairings, Veronica went full-bore right from the start, and was doing piss videos and interracial fucking within her first year in the business.'
Never one to shy away from challenging roles, Ms. Rayne was something of a 'yes girl' throughout her career, willing to do nearly anything or anyone on camera, from BDSM kink to ass-busting interracial anal sex scenes, if there were orgasms in store, Veronica was game.
Veronica Rayne has appeared in over 250 titles to date, though she semi-retired in 2010, new scenes continue to come out, though at a reduced rate from when she was in her heyday. Her performances earned her industry recognition in the form of nominations for several awards, including a Nomination for an AVN Award for 'Best Group Sex Scene' in 2008, followed by two AVN Award nominations in 2009, for 'Jenna Jameson Crossover Star of the Year' and 'Best Group Sex Scene.' Also in 2009, she was nominated for an XBIZ award for 'Crossover Star of the Year,' though she failed to take home the trophy in all of these cases.
In 2008 Veronica and Jack Vegas opened up a restaurant and lounge, Oxygen, in Tarzana, California, which as the name suggests is also an oxygen bar. Her non-porn exploits are not limited to being a restaurateur, she has also appeared as a contestant on the Fox reality show 'My Bare Lady 2: Open For Business,' and has dabbled in mainstream acting, appearing in 'I Hope They Serve Beer in Hell,' the movie based upon the bestselling book of the same name by Tucker Max.
Some girls become famous by using gimmicks like bright pink hair color or a signature sense of style in their scenes. Perhaps one of the most remarkable things about Veronica Rayne is the fact that she is a beautiful but not particularly unique looking brunette. What has allowed her to work her way into the hearts of so many fans is her passionate performances and the energy she puts into every single fuck on film that you will ever see. For Ms. Rayne, good sex is about what she does rather than how she looks before or after she is done doing it. Her soaking wet snatch, wry smile and vibrant erotic aura are all she needs to turn a mundane setting or ordinary costar into the kind of award winning sexual display that has now become a hallmark of her hall of fame porn career.
While she officially retired in 2010, she must find it hard to stay away, as she is still popping up in new titles that aren't compilations, something fans of this raven-haired beauty must certainly appreciate! Mr. Porn Geek has a curated collection of Veronica's hottest performances, all right here at your fingertips and that means dozens of hours of your best fantasy female doing all the dirtiest things you can imagine in an interface that makes watching Veronica Rayne getting fucked even more exciting!
MORE PORNSTARS YOUR MIGHT LIKE
BACK TO PORNSTARS