Brittany O'Connell'S PROFILE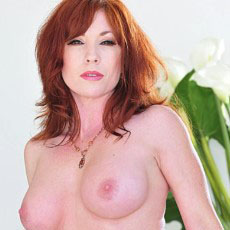 Brittany O'Connell
pornstar details
Date of Birth: 6/12/1972
Ethnicity: White
Height: 171cm
Eye Color: Hazel
Hair Color: Red
Brittany O'Connell is a sexy redhead who is kind of into geeky things. She went to an all-girls school, so her focus in her earlier years was mainly on her studies. Now she loves to read, but mainly for pleasure. Her favorite things to read are Goth science fiction type of stuff such as books by Anne Rice. But she's not only a bookworm. Brittany also excelled as an athlete. She once dreamed of being an Olympic ice skater, and she also was an avid gymnast, explaining some of her flexibility in seemingly impossible sex positions that you might see in her pornographic works.
Brittany, who was raised in Arizona but born in California in the year 1972 under the astrological sign of Sagittarius, got into the skin biz when she was of college age. School was kind of stressful, and she found a great job working as a dancer in strip clubs. She loved the attention and the money that came with stripping off her clothes and showing her flexible body to the world. In 1992 she decided to make the move to porn and has made it all the way from a 19 year old cutie to a sexy and curvy MILF. In 2004, she took a bit of a break, but in 2008 she was back with a vengeance. She was now older and wiser, and had that sexy cougar flair.
Ms. O'Connell is well known for her can do attitude. The more challenging a scene, the more she likes it. She's known for doing group sex sessions and her favorite ' gang bangs. This positive attitude, along with her sexy body, has earned Brittany 14 AVN award nominations and a few XRCO and XBIZ awards too. It makes sense since the girl with a voracious sexual appetite has starred in around 300 fuck vids!
Brittany is not only sex minded, but business minded too. Within the first 5 years after entering the adult industry, Brittany had already starred in 200 movies in which she got fucked in every hole. In 1997, she started her own company, VooDooDaddyFX, because she was not satisfied with the porn that was generally offered at that time. She wanted to make smut that was a bit nastier and more rough than the usual stuff. The site even had a special fan club for Brittany, illustrating just how famous she was back then, and still is today!
MORE PORNSTARS YOUR MIGHT LIKE
BACK TO PORNSTARS