August Night'S PROFILE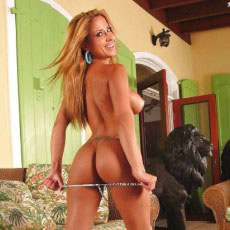 August Night
pornstar details
Date of Birth: 13/09/1981
Ethnicity: Latina
Height: 157cm
Eye Color: Brown
Hair Color: Blonde
August Night is a Hispanic American pornstar who was born in California currently lives in the Los Angeles metropolitan region. Standing at a petite 5 foot 2 inches, and weighing around 110 pounds,' she boasts measurements of 34D-26-33, helped by the addition of breast implants installed in 2007 that brought her from a C-cup to her current Ds. In addition to the breast implants, other body modifications include piercings of her nipples, navel and her right nostril, while in terms of body art, she sports a tribal 'tramp stamp' across her lower back, flowers tattooed on her left bicep and a small design on her left ankle. Alternate stage names in her hardcore filmography include simply her first name, August, as well as August Knight, August Avila, Augusta Avila, August Smith, and Avila, and in her softcore roles she was credited as August Arroya.
Of mixed German, Argentinean, and Mexican ancestry, she has made a lot of films in the Latina genre. Before entering into the adult entertainment industry, August was working as a receptionist, but the low pay and long hours were really getting to her, so at the age of 20, heeding the comments everyone always made that she should try modeling, she answered an ad in a local paper looking for lingerie models, which led to her being offered a role in a hardcore feature. Always down for erotic adventures, Ms. Night let at the chance to get big money for taking cock on camera.
While she was in her 20s August was typecast into collegiate roles, but as she matured, she cannily leveraged her talents and looks to jump from genre to genre, from Latina lesbian porn, big boob productions, anal sex scenes, interracial sex sessions and fetishes including foot fetish and BDSM FemDom videos. Lately, now nearly 15 years into her adult entertainment career she is dominating the MILF genre, and enjoying continued success. Her other secrets to maintaining her career besides genre-jumping, is to not get too closely tied to one studio and making sure to take time off, not always being available to shoot, finding that when she's on a break, studios will inquire as when she'll be free for the next shoot. By taking breaks, she maintains her popularity among studios and decreases the possibility that a studio will tire of her. Her careful self-management of her career has resulted in her having a steady stream of work, and preventing overexposure of her image.
Asked about her preferences in terms of the roles she takes on, August states that while she enjoys getting the opportunity to actually act for the more traditional, big budget productions, like in a mainstream movie, there's a lot of down time involved, waiting filming, then waiting some more. Gonzo scenes, on the other hand allow her to get in and get out, often in a couple of hours with money in hand, which makes for an easier day.
August is still working as a pornstar and she has over 330 features credited to her name, working nearly every conceivable niche, and assiduously avoiding getting typecast into any one particular genre, and has worked for nearly every studio on in Southern California's 'Porn Valley.' If you're interested in seeing this hot Latina in action, you've come to the right place, Porn Hub Premium, with a great collection of this Hispanic hottie's hottest scenes!'
MORE PORNSTARS YOUR MIGHT LIKE
BACK TO PORNSTARS