Jules Van Saint'S PROFILE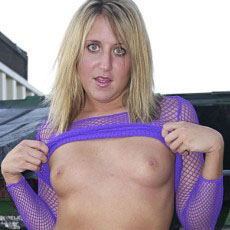 Jules Van Saint
pornstar details
Date of Birth: 6/02/1981
Ethnicity: White
Height: 163cm
Eye Color:
Hair Color: Blonde
This sexy blonde from California is Jules Van Saint and she is a 5 foot 4 inch dynamo full of sexual energy. A Caucasian American girl, she has no tattoos anywhere on her fit and trim body and only one piercing which is to her navel. Her figure adds up to 34A-26-34 and it's her all natural talent when it comes to fucking that has left it's mark on the porn movie community. After she graduated from high school she immediately set out to take the adult entertainment field by storm and that began with doing some amateur photographs and videos for an internet site.
In 2003 an agent recognized the talent that Jules has and asked her to perform in a movie. She took the offer and was soon sucking cock on a set instead of in her own bedroom for a change. The scene ended with a satisfying facial cumshot and over the course of the next few months, she performed in several more of these blowjob and facial cumshot scenes. While she never quite took off and made it instantly to porn stardom, she did make a good dent in the business by being a solid performer who always did what she'd agreed to. With her love of big cocks she did plenty of interracial blowjob and hardcore movies, but she never did any lesbian films. Saying that she didn't think it would be fair for fans to see her faking an interest in pussy when she really doesn't have any.
Jules Van Saint retired from making hardcore porn movies in 2008 after having appeared in only 44 titles. It's possible that she just wasn't ready to expand her sexual horizons enough to keep studios interested, but in any case she is reportedly happy with her career and wouldn't take it back even if she had the chance. Mr. Porn Geek has a nice variety of her best scenes right here for instant viewing.
MORE PORNSTARS YOUR MIGHT LIKE
BACK TO PORNSTARS