Micah Moore'S PROFILE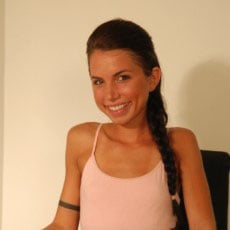 Micah Moore
pornstar details
Date of Birth: 5/10/1987
Ethnicity: White
Height: 173cm
Eye Color:
Hair Color: Brunette
Micah Moore is a pornstar who was born in the Pacific Northwest of the United States. Growing up she attended both Catholic school and private schools. She was said to have gotten good grades and was also a frequent participant in extracurricular activities. Her figure is lean and measures 34C-24-34 since she got a breast augmentation in 2009. Prior to that she had natural A cup breasts. She is 5 feet 8 inches tall and has several tattoos on her body including on each shoulder blade, around her right bicep, on the inside of her left forearm and near both ankles. In 2009 she had another one added to her abdomen that contains a Bible quote. In contrast to her array of tattoos, she only has one body piercing and it's to her right lip area. When she first entered the porn business, she did so along with her friend and fellow pornstar McKenzee Miles.
When she was not even into her twenties was when Micah began working in adult movies. Prior to that she worked at a coffee shop and that's where she met her friend McKenzee who was also an employee. They both spoke about how much they didn't like some things about their job, such as having a dress code and having to follow strict rules. After searching for new work, they settled on stripping at a local club and had a lot of fun with it. The friends moved to Florida where they took part in their first porn movie scene. Ms. Moore was not even a high school graduate at the time, but she was over eighteen. Moving to Los Angeles gave her budding career the bump it needed and she worked steadily for months on end to put out a long string of great hardcore scenes. At one point later in her career she decided to only film with other girls in lesbian scenes but that didn't last too long.
Micah Moore is said to have retired after 2012 but fans are holding out hope that she returns to the porn movie set sooner rather than later. Her great smile and sexy body are what fans love about her so for now they enjoy her videos and pictures online. Mr. Porn Geek is the place to get her great scenes delivered right to your computer. Whether you are on your desktop computer at home, in the office or on a mobile device you will still be able to enjoy them all!
MORE PORNSTARS YOUR MIGHT LIKE
BACK TO PORNSTARS