Kelly Broox'S PROFILE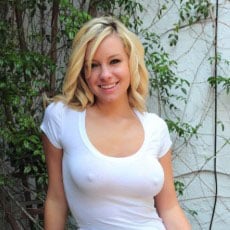 Kelly Broox
pornstar details
Date of Birth: 31/12/1980
Ethnicity: White
Height: 163cm
Eye Color:
Hair Color: Blonde
This sexy and lean American pornstar is Kelly Broox and she was born in Grand Junction, Colorado. A piercing to her navel and one tattoo on her left shoulder blade are the only marks on her 5 foot 4 inch frame. Body measurements are 32B-26-34 and yes she is all natural from head to toe. She has long blonde hair and pretty green eyes that can look hazel under the right kind of lighting. During her porn career she has been known by a few alias names including Kelli Brookes, Kelly Brooks and Gabriel Alexis. Looking for a better paying job is ultimately what lead her to agree to appear in porn movies starting in the year 2004.
Kelly was working in a mall and was walking to work one day when she was struck with the idea of nude modeling. After checking around on the internet while at a friends house, she went ahead and sent in a message which got an immediate response. After having her pictures taken and talking to the photographer, he was able to help her get cast in an amateur movie the very next week. Her family was a bit hard on her when she mentioned working in porn according to reports, but she never wanted to keep secrets and was proud of her work. Things got a lot better as time marched on and now nobody judges her harshly at all. Most likely if she had not been successful things would have been different.
Even with her success, Kelly Broox ended up retiring from adult movies in the year 2009. During her very busy 5 year long career she was able to appear in more than 65 titles in genres ranging from solo masturbation scenes all the way to interracial double penetrations. The most popular selections are available for instant streaming right now on Mr. Porn Geek.
MORE PORNSTARS YOUR MIGHT LIKE
BACK TO PORNSTARS