Ginger Lea'S PROFILE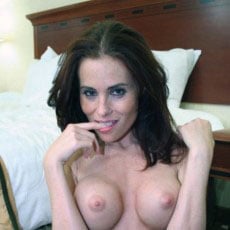 Ginger Lea
pornstar details
Date of Birth: 28/12/1973
Ethnicity: White
Height: 160cm
Eye Color: Hazel
Hair Color: Red
Ginger Lea is a Canadian pornstar who was born in Hamilton, Ontario. Standing at 5 feet 3 inches and weighing 99 pounds, Ginger is a petite auburn-haired beauty with measurements of 34C-24-34, though her measurements were achieved through breast implants, there's no denying how compelling the final result is. Boob job aside, Ms. Lea has no piercings aside from her ears, and no tattoos, giving her a sexy, unadorned look. Over the course of her career, she's been credited under several names, including Tonya Shorts, Ginger Rocs, Tonya Trzebny, Ginger, and Ginger Leah.
Ginger got a relatively late start in porn, her first credited role happening in 2005 when she was in her early 30s. Prior to her first official role in a feature, she had been working for a large retailer, when she was approached to do some fashion modeling. Her fashion modeling led to some artistic nude modeling, which brought her to the attention of an adult website owner who offered her work having sex on camera, an offer she accepted.
Her initial foray into adult entertainment not entirely positive, as she tells it, she had a really bad agent when she first got into the business, who told her that he would need to have sex with her in order to get her work. Recognizing that this was an inappropriate advance, Ginger got into contact with some other pornstars, who recommended that she be represented by a more aboveboard agency.
That she happened to have waited until she was in her 30s to enter porn worked out pretty well for her, as the MILF category was just starting to take off when she started filming scenes in 2005. Somewhat ironically for this late bloomer of a pornstar, as Ginger relates it, while she does everything on camera, from lesbian sex to interracial anal, and everything in between, when the cameras are off, she really is not particularly promiscuous, or even that sexually adventurous. In fact, according to Ginger, her only lesbian experiences have been those that have taken place on-camera.
During her career which spanned five years and over 50 titles, Ginger Lea made name for herself taking on big black cock in lots of interracial sex scenes, in addition to the aforementioned lesbian sex sessions and non-genre mainstream porn, and while she retired in 2010, she has left behind a body of work that continues to gain her fans who long for her return. Mr. Porn Geek has a curated collection of Ginger Lea's hottest scenes all available instantly and on demand.
MORE PORNSTARS YOUR MIGHT LIKE
BACK TO PORNSTARS