Alexis Love'S PROFILE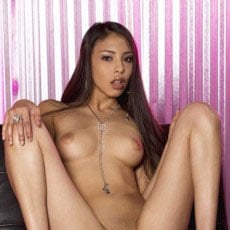 Alexis Love
pornstar details
Date of Birth: 7/04/1987
Ethnicity: Latina
Height: 160cm
Eye Color: Brown
Hair Color: Brunette
Alexis Love is definitely a 'spinner,' i.e., a girl who is so petite that you can sit her on your dick and spin them around whichever way you want. Alexis is also a gorgeous Latina brunette, who is very sexually enthusiastic about whatever cock or pussy is put in front of her face or dripping wet slit. When she's not fucking for the cameras, Alexis enjoys watersports, no, not those watersports, but jet-skiing, as well as going off-roading in her tough Hummer SUV.
Alexis is definitely one of the rare porn performers who has the complete support of her friends and family. Of course, at first some family members were a bit skeptical or critical of her choices, but then they just came to the conclusion that Ms. Love is that kind of girl who always does exactly what she wants, and there's nothing they can do about it.
Alexis's fame also brought her into some mainstream television appearances, which she was thrilled about. In 2007 Alexis Love appeared on Entertainment Tonight's Fresh New Faces in Adult Film segment. In the spot, she was interviewed and gave information about the lifestyle of a porn star and how she got into the business. The next year Alexis Love showed up on the daytime talk show called The Maury Show. Here, the show's host Maury Povich asked Alexis some truly hard questions about the adult industry. Alexis answered them as best and truthfully as she could, which made her appear strong and eloquent. Alexis was proud of this appearance since she felt like she really held her own ground.
Growing up Alexis was pretty smart. She excelled in subjects most people find difficult like calculus. She was a good girl, and usually obeyed her parents. This all changed once she turned 18. Alexis wanted to move out of her parents' house and sew her wild oats, but there was no way she would be able to afford rent, utilities and have some money left over for food and entertainment all on her own. Just out of high school, she didn't have the experience to get a good paying job. A friend brought her along to a porn shoot, just to watch, and it was all history from there. Alexis's money problems were solved. She saw that unlike the stereotypes about porn, the females getting fucked were really the ones in control, and the crew was very respectful during the whole shoot.
Doing porn has opened up Alexis' sex life to things she never even knew she enjoyed. She has loved fucking girls in her porn videos so much that now she has become fully bisexual and plays with girls during her private sexual play as well.
MORE PORNSTARS YOUR MIGHT LIKE
BACK TO PORNSTARS