Ariana Jollee'S PROFILE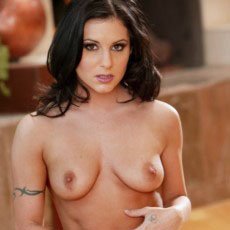 Ariana Jollee
pornstar details
Date of Birth: 16/01/1979
Ethnicity: White
Height: 157cm
Eye Color: Brown
Hair Color: Brunette
Pornstar Ariana Jollee comes from New York City and is of mixed heritage that combines to give her a distinctive look. She has been known by several variations of her stage name but porn fans know her by any name. Her athletic figure is petite at only 5 feet 2 inches and she has several unique tattoos including the letters "SF" on her lower back and the phrase "Solace In Solitude" on her right arm. There are additional tattoos in other places on her body but she only has one piercing which is in her navel. She is said to be the daughter of a fairly well known former Long Island, New York radio personality. Before she started working in professionally produced adult films she was an amateur solo girl who maintained her own website. She would pose and take pictures of herself in different clothing and settings and got a lot of attention that way which opened the door to major industry studios.
Some of the very first scenes that she performed in were the kind you normally would find a veteran performer doing. Genres such as gangbangs and anal sex were not off limits at all and she even performed a 24 man gangbang scene for the movie "Gangbang Girl 35." This is a girl who just naturally loves sex and she has been quoted in various interviews as having said that she's had more than 400 sex partners. That includes her scene partners but even more of that number are from outside of the business in her free time. In only her first 13 months in the business Ms. Jollee reportedly performed in excess of 200 movie titles. She went on to win the XRCO Super Slut of the Year award for two years in a row for all of the scenes made during that time. Her work in the business has not been limited to performing either and she made her directorial debut in the 2004 season to some critical acclaim.
Ariana Jollee definitely had a "no holes barred" attitude toward sex and in the more than 700 porn movies that she appeared in during her busy career. She retired from performing in 2011 but left a lot of great scenes to keep fans going far into the future. The collection at Porn Hub Premium contains all of the evidence you need to see for yourself what a horny fuck slut this girl really is.
MORE PORNSTARS YOUR MIGHT LIKE
BACK TO PORNSTARS