Chennin Blanc'S PROFILE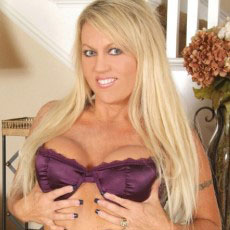 Chennin Blanc
pornstar details
Date of Birth: 24/06/1968
Ethnicity: White
Height: 163cm
Eye Color: Blue
Hair Color: Blonde
Chennin Blanc is a sexy blonde haired, blue eyed American pornstar who was born and raised in Lynwood, California. Standing at 5 feet 7 inches tall, and weighing only 114 pounds, she boasts impressive measurements of 36C-25-36, though her measurements are augmented with breast implants, to achieve her extremely appealing silhouette. Much as she was cautious with increasing the size of her bust, she's kept other body modifications to a tasteful minimum, with a navel piercing and a floral band tattooed on her left bicep, as well as small matching floral bands around her ankles. Given her unusual choice of stage name, she's been credited with several variations on the theme, including, Shanon Blanc, Shannon Blank, Chanin Blanc, Channen, Channin,' Chennin, Chenin Blanc, and the one outlier in the bunch, Lynn.
Growing up, Chennin describes herself as an excellent student, especially loving English classes, and by her reckoning is an amazing speller. She jokes that her siblings used to hassle her about her great achievements in academics, raising the bar for the performance that would be expected of them. Also during her school years, she met the man she would marry, who also ended up going into the adult entertainment business, and by all accounts they are still living happily ever after.
Prior to receiving her breast implants, Chenin was extremely flat chested, describing them as nothing more than nipples. Her implants were already in place when she got in front of the camera for the first time, at the relatively late age of 28 years old, in 1996, and in her first year in the business, only appeared in a few titles, but went immediately to full-bore hardcore, getting double penetrated by two men in her second on-screen appearance.
Chennin's good looks invariably saw her placed on the cover of the features in which she appeared, and she appeared in still sets for such publications as Details, Club Confidential, High Society, Playgirl, Cheri, Fiesta Digest, Skin Motorcross, and Easy Rider magazines.
While many of Chennin's roles have been in hardcore male / female action, and certainly this have gained her the most acclaim and attention, she's also done a number of lesbian scenes, and has done some genre-busting lesbian scenes with strap-on dildos that ended up being quite popular with her fans.
An old-fashioned girl, porn career aside, Chennin like men who embody old fashioned masculine characteristics, and feels turned off by the wishy-washy men of today, preferring a man who takes what he wants rather than asking for permission. In keeping with her views on men, Chennin likes masculine and direct men, and has a thing for 'bad boys.'
These days, Chennin tries to keep her activities near her home in Huntington Beach, California, feature dancing in local clubs in and around Los Angeles, appearing in a couple movies a year, and maintaining contact with her fans through her active Twitter feed. She has thus far appeared in over 350 titles, and some of her best performances are right here at your fingertips, at Mr. Porn Geek!
MORE PORNSTARS YOUR MIGHT LIKE
BACK TO PORNSTARS