Tanya Danielle'S PROFILE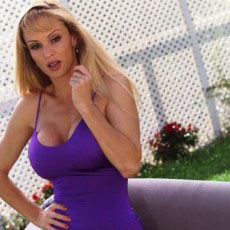 Tanya Danielle
pornstar details
Date of Birth: 3/12/1976
Ethnicity: White
Height: 165cm
Eye Color: Brown
Hair Color: Blonde
Tanya Danielle is a blonde chick who became a porn star to pay for her college education. At the time, in 1999, Ms. Danielle was a stripper, having fun in clubs while earning the big bucks to pay for a degree in art history, and started doing porn to further explore her sexuality, a study she started to find much more interesting than art history! Tanya ditched the books and became a full time pornstar, to the delight of all her fans. Tanya said in one interview, that she feels that by taking control of her body and her wallet she is upholding values that are very important to her, like being an independent woman.
Tanya Danielle loves to get pounded by a cock in her personal life, but in her professional porn life she only does lesbian or solo porn scenes. It makes sense that Tanya became a lesbian pornstar since she says she always questioned women's roles in society and never understood how women could expect a guy to pay for everything, and then expect equal treatment in return. By using her pussy to take control of her life, Tanya feels like she levels the playing field. She wants to be treated equally, and is willing to put in her part too. Often Danielle's porno work has a kinky theme to it, like bondage or pissing. Tanya has also appeared in a variety of foot fetish videos in which she shows off her feet to the camera and teases the viewer with her cute hoofs, or where she tickles and tantalizes the feet of another girl. Tanya Danielle has also appeared in a few striptease videos, using her skills from the strip clubs to turn you on!
Watch Ms. Danielle on Mr. Porn Geek in a porn movie called Rub the Muff 5, which features only solo masturbation scenes. The XXX DVD is produced by Rain Production and is directed by famed porn duo Anthony and Mitchell Spinelli. Tanya rubs her wet pussy with her fingers and fucks her slit with a dildo until she cums for you. Tanya gets off knowing that you're watching her hot masturbation session. You may wish that you could be there next to her, seeing her rub her muff, but being behind the computer is the next best thing, because Tanya really knows how to turn a guy on!
MORE PORNSTARS YOUR MIGHT LIKE
BACK TO PORNSTARS