Persia DeCarlo'S PROFILE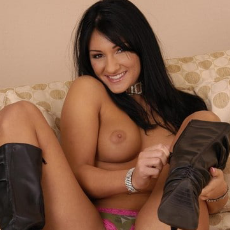 Persia DeCarlo
pornstar details
Date of Birth: 1/01/1986
Ethnicity: White
Height: 164cm
Eye Color: Brown
Hair Color: Black
Persia DeCarlo is a sexy American pornstar of Italian and Persian ancestry, with lustrous black hair and brown eyes, born in Cleveland, Ohio. Standing at petite 5 feet 1 inch tall and weighs only 92 pounds, with measurements of 34B-24-34, she's a 100% natural beauty and in interviews she's stated that she intends to keep it that way. In keeping with her all-natural edict, she has no tattoos, and has but one piercing other than her ears, a navel piercing. Like so many pornstars, Ms. DeCarlo has been credited under a few different names during the course of her career, under stage names like Madison DeCarlo, Madison Di Carlo, Natasha Jolie, Persia and Persia De Carlo.
Her career in porn began in the year 2004 when she was about nineteen years old. Working in adult films has been a dream of hers ever since she reached her sexual maturity. Being able to follow that dream was a bit tough since she was nowhere near the center of America's porn capital of Los Angeles, California. However after working as a nude model for a time, she was able to make a few connections and finally made her way to Fort Lauderdale, Florida, where she shot her first film, jumping in with both feet as it were, taking on two men for a no-holes barred three way, where she double-penetrated by her costars, Brian Surewood and Scott Nails.
Miss DeCarlo knows what she wants from a lover and has become much more open and honest about telling him since joining the porn business. The first thing that she always wants during sex is a good pussy licking. He can stick his tongue deep inside or just play around on the outside of her pussy because she likes it all. For her part she likes to suck dick and really work on his balls, but only if he shaves them first. According to Persia, there is nothing worse than sucking a hard cock and having to stop every few seconds to pull a hair off her tongue. Her hair is always really long and she likes it that way, but it can get in the way during sex so she'll sometimes wear it up. When it's down, it reaches all the way to her sexy and inviting ass. Being so petite has been a great benefit to her she thinks, as she never has to worry about wearing high heels when she dates a guy. Most guys are much taller than her and she's never dated one who was shorter.
In her personal life, Persia has a wide variety of interests and hobbies. She goes to pottery class each week whenever she is not working and has turned out some really great works. Her teacher has told her that she could make it as a full time artist in ceramics if she dedicated more of her time to it. Having some artistic talent is something that she hopes to pass on when she has a family. A self-described foodie, DeCarlo loves to eat and so naturally enjoys cooking as well. Her favorite foods are typically Italian and include not only pasta and meats, but also all kinds of seafood too. Among her favorite flavors are spicy chili and almost anything with a great tomato sauce is a good meal in her book. Along with dinner there has to be good wine, and she sticks to the traditional, with white wine for fish and red for meats and pasta. Her musical tastes range from 1980s pop music to more modern rap and rhythm and blues.
Persia DeCarlo is thought to have retired after the 2012 filming season as the only release she has after that is a compilation film that came out in 2013. Her filmography includes more than 80 titles, and she is a favorite with fans of petite girls who have great feminine figures. Her enthusiastic and energetic performances are enjoyed every day by Mr. Porn Geek fans who hope she makes a comeback soon.
MORE PORNSTARS YOUR MIGHT LIKE
BACK TO PORNSTARS