Jamie Elle'S PROFILE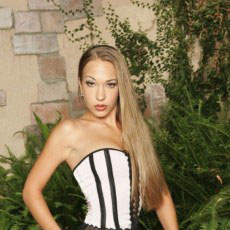 Jamie Elle
pornstar details
Date of Birth: 2/06/1985
Ethnicity: White
Height: 157cm
Eye Color: Brown
Hair Color: Brunette
Jamie Elle is a white American pornstar from Denver, Colorado. Jamie is known for her lovely naturally auburn colored hair and deep brown eyes. Standing at a petite 5 foot 2 inches, and weighing in at pounds, she a small girl with outsized sexual appetites. Her body measurements of 34C-24-34 are all natural, and she has stated that she doesn't intend to ever get implants. Her lack of desire to modify her body surgically doesn't extend to other body modifications however, and she has several body piercings, including a pierced right nostril, a tongue piercing, and piercings of her navel and lower lip, and in 2009, she got both of her nipples pierced. Jamie is a fan of body art as well, having a large floral pattern tattooed on the left side of her torso, a tribal 'tramp stamp' on her lower back, a small tattoo on her left ankle, and a heart on her right shoulder blade. Jamie Elle's name has been credited with the usual porn star misspellings over the years, including Jaime Elle, Jaimie, Jaime Ell, Jamie El, Jamie Ele, and Jamie El.
Growing up, Jamie tended to hang out with the rowdy crowd, the smokers and the cut ups. Surprisingly, she's never been into porn in her personal life, though she did see the women who pose in magazines, and thought to herself that they were beautiful and sexy, and harbored the notion that she could one day join their ranks as an object of desire. In an interview, Jamie said that she got into porn because she was 'curious and horny,' a heady combinations to be sure. She found a website that was soliciting for nude models, and given her looks, it's not surprising that she was soon performing in front of the cameras.
While many pornstars start out with solo scenes and lesbian work, Jamie went for the gusto, making a name for herself in anal sex titles and doing fetish sex videos. In actuality, she doesn't consider herself to be bisexual, and actively avoided doing one on one lesbian sex scenes for most of her career. Sure, if she was in a group sex scene she would fully participate, but as far as a straight-up girl on girl scene, she wasn't interested. Her willingness to perform lesbian acts was never in question though, and she even got a nomination for 'Best Group Sex Scene' at the 2010 AVN Awards, along with nominations in other years for 'Best Three Way Sex Scene' and 'Unsung Siren,' though for all of her nominations she never took home a trophy.
Looking over her filmography, Jamie has done it all, from pee fetish videos, to a veritable mountain of anal sex titles, and after five years in the business, she started taking on lesbian sex scenes. Ever the performer, she even continued working while pregnant, appearing in a few pregnancy sex films, with her normally svelte figure changed by her big pregnant belly, and big, milk-filled tits in its place.
For all of her wild adventurism in front of the cameras, Jamie is something of a teetotaler when it comes to work, and she will not drink or take any intoxicating substances if she is going to be involved in anything work related, whenever it's shooting a scene or signing autographs at an industry event. She views this as her career and takes her responsibilities for providing the best possible performance she can for her fans, and besides, it's something of a clich' how the party girls in the industry eventually have their habits catch up with them, a fate Ms. Elle as studiously avoided.
Jamie Elle is still an active performer, though having given birth recently, and now taking care of her offspring her output has slowed considerably, though in a couple of years it's entirely likely we'll see her appearing more as the demands at home lessen, though with a list of credits that encompasses over 260 titles, there's plenty of Jamie to see, and Mr. Porn Geek has a carefully selected catalog of her best movies for your to see, right here, right now!
MORE PORNSTARS YOUR MIGHT LIKE
BACK TO PORNSTARS