Capri Anderson'S PROFILE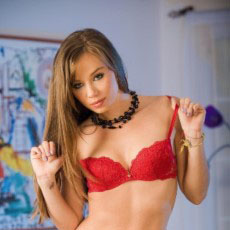 Capri Anderson
pornstar details
Date of Birth: 30/03/1988
Ethnicity: White
Height: 168cm
Eye Color: Blue
Hair Color: Brunette
Capri Anderson was born in New York, New York and she is Caucasian with a mix of Irish and Welsh heritage. She has several tattoos on her body and a couple of piercings as well. Her all natural slim body is perhaps what she is best known for which is definitely how she likes it. When she was eighteen years old she was already owing money for college expenses and working two jobs in Miami, Florida. She could see that even with all of her work, the money coming in was just not enough to cover the money going out so she explored her options again. At the time she was in a relationship with a man who was willing to work with her doing amateur porn movies so they searched on the internet for places to make money doing it and that's how she got her start making porn movies.
One of the first professional scenes she ever filmed was for the film "Bang Bus 16" and she uses the alias name Stella. After she is picked up by the van, she shows off her sexy body and then gives a nice blowjob to the guy before he starts fucking her from behind. They screw in several positions before she is on the receiving end of the facial cumshot. Many of her subsequent films are lesbian encounters or solo masturbation scenes so some of these early ones are a real treat for fans.
In 2010 Capri became involved with celebrity Charlie Sheen during his very public "bad boy" moments. She was one of the pornstars that he had been partying with and at one point she contacted police saying that she was in fear for her life. He had reportedly invited her to dinner at a famous New York restaurant and then brought her back to his Plaza Hotel suite when things got out of control according to her. He allegedly wanted to have sex with her in the bathroom but she refused to do that and he was later found in the stall with cocaine on his face according to reports. Later when they were back in his hotel room, Anderson said in an interview that he had put his hands around her neck at one point and thrown a lamp across the room at another. In the end it turned into a lawsuit and is believed to have been settled outside of the courtrooms.
Capri Anderson has performed in about 70 porn movies during her career which is still active as of this writing. She is a beautiful figure of a woman who does well in both photo-shoots and in hardcore porn videos. See all of her great scenes here at Mr. Porn Geek and you'll see why she can command the center of attention even in a room full of attention seekers.
MORE PORNSTARS YOUR MIGHT LIKE
BACK TO PORNSTARS