Dylan Ryder'S PROFILE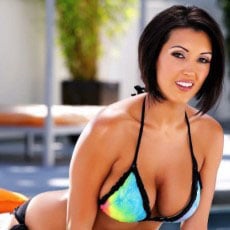 Dylan Ryder
pornstar details
Date of Birth: 23/02/1981
Ethnicity: White
Height: 175cm
Eye Color: Brown
Hair Color: Brunette
Dylan Ryder is a pornstar who was born and raised in Fresno, California by her Italian and German born parents. A Pisces according to the zodiac, she often displays traits that are said to be common among people who are born under that star sign. While she was still a student she was already involved in mainstream modeling and working in her hometown doing advertising for multiple products. She was also swimming at the competitive level and was not interested in drinking, drugs or guys until she matured. Once she had reached her eighteenth birthday though, she had filled out her tall figure and was interested in exploring her blossoming sexuality. She starting going to school to learn nursing and landed in a job as a substance abuse counselor. She still wanted to get out of the rut she felt that she was in and so in a bold move at age 22 she sent nude pictures of herself to a couple of adult talent agencies.
Not long after she contacted them, they were contacting her in reply and she was on her way to some photo-shoots. Although those went really well, she still felt that it might not be for her so took a job in a correctional facility as a guard officer. Being exposed to that part of society was the catalyst that she needed to go back to what she had actually done on her own which was pose nude. It was at this time that she really got serious about working in the porn industry and even had her breasts augmented from their natural size to their current double D size. Later she reportedly said that this really boosted her confidence to the next level and helped her have more courage on the set. Fans love her big round tits and sexy ass and she is quite a skilled cock sucker on top of everything else. Another thing that she is known for is her love of group sex scenes. According to Ms. Ryder, it makes her feel competitive and brings out the best performances in her.
Miss Ryder has so far appeared in more than 150 porn movies and has no plans to retire any time soon. Her official Twitter account has more than 15,500 followers and she tweets fairly regularly about what's coming up in her professional and personal life. Reportedly she chose her stage name by simply liking the name Dylan, and putting it together with the phrase "ride her" to make Dylan Ryder. Mr. Porn Geek has some fantastic scenes of this big tits pornstar that will make you come back for much more!
MORE PORNSTARS YOUR MIGHT LIKE
BACK TO PORNSTARS