Jayme Langford'S PROFILE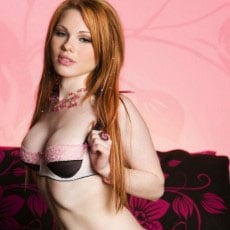 Jayme Langford
pornstar details
Date of Birth: 13/12/1987
Ethnicity: White
Height: 160cm
Eye Color:
Hair Color: Blonde
When Jayme Langford started doing porn, she did fuck a few big dicks at first before deciding that guys weren't really her thing and moving onto being strictly a girl on girl or solo masturbation performer. For now, she's going to stick with that, even though she still fucks some guys in her personal life. Why did she join the porno biz? Well, of course it started out as a way to make money, but soon she just loved the women that she was working with so she decided to stick around. Before porn, Jayme was an excellent student, graduating early with honors, but she allegedly had a bit of an angry streak and got in a lot of fights. When she went to college, she decided to study pre-med because she loved math and science.
When she started in the adult industry, she had been working as a waitress. Then, in 2006 at the age of 19, she made her grand entrance into the fucking and sucking business. When she started to have some success, Jayme decided to make her schooling part-time, and her lesbian sex scenes full time. She said she only intended to be in the industry for a short time, but she's still here as of 2014, doing lesbian orgy and strap-on scenes. Her reasons for staying are unknown, but perhaps it's because of her girl on girl talent which has been rewarded with award nominations. Most recently she was nominated for Best Tease Performance in Xero, bringing her total AVN nominations to 5. Throughout her time in the adult industry, Jayme has made over 100 movies, including a few with a darker twist. In 2008 she starred in a scene for FM Concepts that was all about girls who got tied up and tickled, showing that Jayme is interested in expanding her sexual practices by adding in a bit of BDSM.
Jayme has lots of other hobbies besides just school and sex though. She loves to collect pink guitars and in 2008 she formed a band with two other sexy girls, Louisa Lanewood and Jana Jordan. The band is called Pajamaband, and is all about rocking hot chicks having a good time while playing music. Her musical background started when her parents had her take piano lessons, but now she is focusing her musical talents on the guitar. Jayme also cares a lot about the world around her. She gives a lot of time and money to the causes she believes in, which include wildlife conservation and protecting the environment.
MORE PORNSTARS YOUR MIGHT LIKE
BACK TO PORNSTARS