Victoria Sin'S PROFILE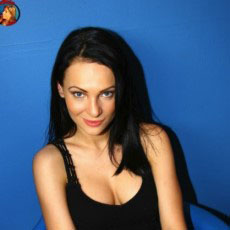 Victoria Sin
pornstar details
Date of Birth: 27/06/1979
Ethnicity: White
Height: 165cm
Eye Color: Blue
Hair Color: Black
Victoria Sin is a 5 foot 5 inches tall German sex machine. Ms. Sin loves her job as a pornstar and told one interviewer that she would never go back to her nine to five office job, being a paralegal, that she had in Germany when she made her first porn movie. Victoria's favorite part of a porn shoot – besides the hot fucking of course – is when she has her makeup done by a professional. Victoria also truly loves Los Angeles, and thinks the weather is so wonderful compared to Germany's often rainy and cloudy days. Victoria has a thick German accent – but she doesn't think that sets her apart in the American porn industry. Ms. Sin thinks there are a lot of other gorgeous dark haired, pale girls who want to be porn stars too, and there's not all that much talking in porn! However, we think there is something special about this European slut.
Watch Victoria Sin get her kink on in a fetish DVD on Mr. Porn Geek called Raw Talent. Germans are known for being incredibly freaky in bed, and Victoria is no different. Victoria wears sexy fishnet stockings and a tight corset while she pleasures two anonymous masked men. She doesn't care that she can't see their faces, she knows her only job is to pleasure their hard cocks as best she can with her slutty mouth and other orifices. Victoria also masturbates in front of the guys to help them get hard. Victoria Sin also stars in a hardcore fucking extravaganza on Mr. Porn Geek entitled Born Whores 3, by Riccardo Santini. Victoria loves the rough sex and hard fucking scene she did in this XXX DVD, in fact in interviews she's stated that it was one of her favorites to shoot.
Victoria Sin loves anything to do with sex and has starred in lesbian, ass to mouth, anal and interracial fucking scenes. Victoria has always done these acts, and has never tried to bar any holes from her costars as a ploy to make more money later. Victoria is truly in it for the love of sex and sluttiness. Victoria Sin tried on many different names before settling on the one that she liked best, so some of her porn movie credits are for Victoria Sinn, Vic Sinister, Victoria Sinister or Victoria Sinista. Whatever you call her, she won't care as long as there is a fat dick in one of her Euro slut holes or a pussy for the bisexual whore to lick somewhere near her mouth!
MORE PORNSTARS YOUR MIGHT LIKE
BACK TO PORNSTARS