Tera Patrick'S PROFILE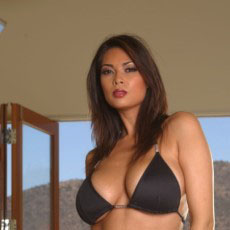 Tera Patrick
pornstar details
Date of Birth: 25/07/1976
Ethnicity: Asian
Height: 175cm
Eye Color: Brown
Hair Color: Brunette
Tera Patrick is a buxom brunette pornstar who was born in Great Falls, Montana. She is of mixed heritage including Caucasian and Asian traits that stem from her parents' American and Thai nationalities. Her zodiac sign is Leo and she shares most of the traits common to people who were born under that sign. She has no piercings aside from each ear and only one tattoo which is above and to the outside of her right ankle. When she was still growing up, her family moved to San Francisco, California. Her mother returned to her home country of Thailand so Tera did most of her growing up in the company of only her father. It was there that a photographer asked her if she would take his business card and she agreed. She was interested in modeling and enrolled in a school and was soon working in mainstream print modeling.
Her time as a mainstream model saw her working internationally as well as in the United States and by the time she was eighteen, she had blossomed into a truly stunning beauty. In fact her body had become much more curvaceous than most runway models and her offers for work started to decline rapidly. It was then that she returned to school and obtained her degree in nursing and also got a BS in microbiology. She worked at nursing homes in California and started nude modeling to supplement her income. Playboy held an open audition that she attended and she was selected from a pool of more than 1000 girls to work for Playboy magazine and Playboy TV as well. Tera never went back to working as a nurse after that and only wore the uniform a few times for photo-shoots.
Tera Patrick became a huge star in adult entertainment including working in hundreds of films, thousands of pictures and she even launched her own production company called "Teravision" that produced porn movies. She has been a frequent recipient of industry awards including Starlet of the Year, Fan Favorite and has been inducted into the AVN pornstar Hall of Fame.
MORE PORNSTARS YOUR MIGHT LIKE
BACK TO PORNSTARS