Leah Luv'S PROFILE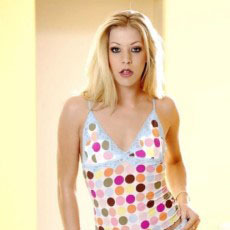 Leah Luv
pornstar details
Date of Birth: 28/07/1984
Ethnicity: White
Height: 168cm
Eye Color:
Hair Color: Blonde
Leah Luv is a sexy blonde who is also kind of geeky in a good way. Leah is the type of girl who did very well in school and was on the honor roll for every year of education but secretly fantasized about doing all the nasty things she heard other sluts were into at slumber parties and keggers. At 18, Leah was took a gig as an exotic dancer when disaster struck and she was reportedly diagnosed with cancer. The treatments required her to start making more money to pay off her medical bills, so she decided to enter the smut business. As luck would have it, Leah had braces on her teeth at the time and many producers foolishly turned her down at porn castings because of her orthodontics, but that's because they failed to see how awesome Leah Luv was at getting fucked! In fact those braces didn't stop her from becoming a popular pornstar, and Leah left them on her teeth, creating an entirely new niche around the concept of dental sex appeal with a barely legal slut. That lasted the length of her entire 11 year porn career. It even lead to whole DVDs about bitches in braces and gave life to many other girls with tin on their teeth and cum on their faces!
Some girls go gay for pay on film, but Leah has always been a true bisexual who loves to fuck girls with strap-on cocks or eat another girl's wet twat in a lesbian porn scene just as much as she enjoys having dicks shoved in every opening of her body. According to an interview online, Leah Luv adores the badboy type of guy who seems a little mean, but has a big dick and can fuck all night. Her favorite type of guy/girl scenes include the 69 position where Leah sucks a guy's dick and has her pussy licked because it makes her feel 'like she is having sex from head to toe and nothing is being left out.' Like every worthwhile stunt slut, Leah has opened all of her holes for porn video lovers, including her eighteen year old back door. In The Anal Whore Next Door, which you can watch for free right here on Mr. Porn Geek, Leah proves that even though she may look like a sweet girl next door, she's as freaky as any pornstar who has ever had her ass fucked in a hardcore anal sex vid.
Leah Luv retired from porn in 2007, but she still considers her experience in the porn biz to have been very positive. Leah made lifelong friendships with fellow porn stars and because it paid for her cancer treatments she is quick to point out that porn actually saved her life during a difficult time. Leah also enjoyed traveling to exotic locations to make porn flicks and now that she is retired, she hopes to return to being that straight-A college student – though this time she doesn't have to wonder what it would be like to be the most popular set of holes on the floor of a frat party because she has already done it all!
MORE PORNSTARS YOUR MIGHT LIKE
BACK TO PORNSTARS