Samantha Ryan'S PROFILE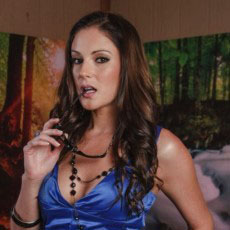 Samantha Ryan
pornstar details
Date of Birth: 3/03/1978
Ethnicity: White
Height: 170cm
Eye Color: Hazel
Hair Color: Blonde
Samantha Ryan is a cutie who was born in 1978. Lately she has been sporting a smart brunette look, but in her career she has also experimented with platinum blonde hair and a few shades in between. In addition to being a professional fucker, Samantha is a wonderful piano player and singer. She can be seen on social media sites playing songs that she wrote and singing for her fans who enjoy seeing a different side of her.
In the beginning of her career in 2004, Samantha Ryan did do some boy girl fucking a few times, but she decided that her favorite type of porn to make was either girl on girl films or solo masturbation. Since her debut Ms. Ryan has starred in more than 500 XXX movies, most of them dealing with sexy lesbian carpet munching action or masturbation. Samantha Ryan has also appeared as a top and bottom in some really hot bondage movies, in which she interacts with guys but doesn't fuck them.
Samantha Ryan comes from Kansas, and she actually got into the porn business through another girl from the same state. Her new friend was so nice, that Samantha learned that the stereotypes about pornstars were simply untrue. Not finding success in mainstream acting, Samantha decided to give adult a go. She loved it, and still does especially the part where she gets to interact with her fans. This is a change from before Samantha was in the adult biz. The lesbian porn star used to be really shy, but when she joined a color guard performing group, Ms. Ryan had to come out of her shell! Samantha Ryan also loves how much people in the industry treat porn just like any normal job.
Watch Samantha Ryan on Mr. Porn Geek in a hot lesbian number from Filly Films called Karlie Montana's Finding the L in Love. Samantha stars in a sexy scene with AnaBelle Lee and one other chick. Samantha and her friend are dining at a restaurant, and they think the waitress is hot. Once the waitress gets off her shift, the three slutty lesbos go have a hot girl on girl threesome in the parking lot! Samantha and her friends munch on each other's tasty pussies and finger fuck each other to orgasm right in the parking lot where anyone could see. What slutty exhibitionist lesbians!
MORE PORNSTARS YOUR MIGHT LIKE
BACK TO PORNSTARS