Stacy Silver'S PROFILE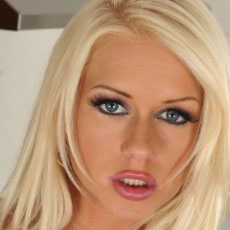 Stacy Silver
pornstar details
Date of Birth: 7/06/1981
Ethnicity: White
Height: 168cm
Eye Color: Blue
Hair Color: Blonde
Stacy Silver is an Eastern European pornstar who was born under the astrological sign of Gemini, which could signify that she has a sweet and innocent side she shows to her family and friends, but in her porn life she lets her wild other side loose in hardcore sex scenes. Stacy is a multi talented slut, who has taken her onscreen experiences to heart and learned a lot, and used her experience to direct some smut, after having taken a break from the industry to start a family. Stacy is a statuesque blonde who looks like a stereotypical pornstar with fake D cup boobs, enhanced from her natural C cup size, a 26 inch waist and a luscious 36 inch ass. Stacy is 125 pounds of fully equipped fuck material.
This sexy blonde whore is featured on These Feet Are Made For Fucking, a foot fetish film by Combat Zone that you can watch on Mr. Porn Geek. Stacy Silver thinks stroking a guy's hard cock with her feet is so sexy and loves to make a guy's dick hard with her well manicured hoofs, as long as her foot-loving boyfriend fucks her in the ass afterwards! Stacy Silver also stars in Horny Housewives, a cougar porn video on Mr. Porn Geek that shows what happens when horny MILFs are left at home alone to play with whatever cock comes their way!
Stacy Silver is a true fan of anal sex, and many of her over 200 porn credits include a hardcore anal sex scene. Ms. Silver also adores the moment when a guy cums on her pretty face, messing up her makeup and making her feel quite whorish. The world has recognized this Czech beauty's porn contributions as well, rewarding her efforts with many nominations for coveted adult industry awards. In 2005 and 2007, Stacy was nominated for Best Sex in a Foreign Shot Production, and in 2006 Ms. Silver was nominated for Female Performer of the Year.
Stacy Silver's leisure time activities include going to the gym and going to the movies, or perhaps having a vodka drink with her beau du jour. However, Stacy doesn't have much time to play since she is always making porn movies to satisfy her craving for hard cocks and extreme, hardcore sex!
MORE PORNSTARS YOUR MIGHT LIKE
BACK TO PORNSTARS