Roxy Jezel'S PROFILE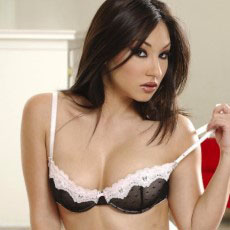 Roxy Jezel
pornstar details
Date of Birth: 5/06/1982
Ethnicity: Asian
Height: 152cm
Eye Color:
Hair Color: Brunette
Roxy Jezel is a steamy and sensual porn star who has an exotic look due to her mixed heritage which is half Thai and half British. Roxy grew up in England, and is one of the most well known British pornstars. Ms. Jezel has starred in more than 350 adult movies, a testament to her popularity. This Asian porn sensation started making hardcore fuck movies in 2003, after having been an exotic dancer in Australia, but really rose to fame after she won a contest by Jenna Jameson called Jenna's American Sex Star. The win got her a contract to make porn for Jenna's production company and was also Jenna Jameson's first Asian porn star under contract.
Roxy's favorite sex scenes to shoot typically involve group sex, threesomes and anal sex. Roxy Jezel enjoys pleasing her male partners in hardcore fucking scenes, and getting off herself too! You can see Roxy doing what she does best right here on Mr. Porn Geek in a hot movie called Dr. MILF Pussy Doctor, by Rapture Entertainment, which features Roxy in some hot blue lingerie right on the cover. Roxy plays the kind of doctor who doesn't fix anything, but makes you feel a whole lot better with her XXX sex moves and hot body.
Some people get Roxy Jezel's unique name all wrong, calling her Rozy Jezel, Roxy Jewel, Roxy Jesel and Roxy Gissel. Those who really know her well just call her Roxy. Roxy typically doesn't care what you call her as long as there is some hot fucking, orgasms and a warm cumshot involved in the scenario. Roxy is truly an Asian sensation, however, she also has some mainstream acting chops and has appeared on the HBO show, Entourage. Her fans love to see Ms. Jezel in whatever medium she chooses to perform and you will too so watch all of her videos here on Mr. Porn Geek! You will not be disappointed with this horny Asian whore!
MORE PORNSTARS YOUR MIGHT LIKE
BACK TO PORNSTARS