Angel Eyes'S PROFILE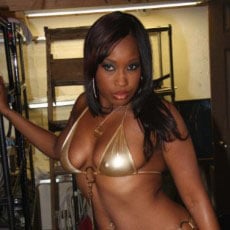 Angel Eyes
pornstar details
Date of Birth: 19/08/1980
Ethnicity: Ebony
Height: 170cm
Eye Color: Brown
Hair Color: Black
African American pornstar Angel Eyes is a girl who comes from rural Pennsylvania where she grew up. She is said to have been born in California but there is not a lot of personal information about her available to the public. There are a few tattoos on her body including on her right shoulder blade, right thigh and lower back. In addition to that body art she has a piercing to her tongue and another to her navel. She is probably most well known for her nice thick body and big round booty. Another thing that fans love about this sexy girl is that she can give a blowjob like nobody else. A good many of her porn scenes are in the facial cumshot niche so fans of fellatio have a lot to look forward to.
Ms. Eyes began appearing in adult movies around the year 2002 and one of those early titles was "Black and Wild 4" from Hustler Video. Her scene is the fourth one and she shares it with male performers Domineko and Mr. Marcus. During this threesome scene she not only sucks their cocks and fucks them, she also takes both of their dicks in her pussy at the same time. Her credit in this movie is using her alias Nika Chanel which she used in some of her first movies. Being a bit on the chubby side never hurt her career one bit and she capitalized on it with appearances in films like "Chunky Cheerleaders 2" and "Chunky School Girls" which were both released in her debut year.
Angel Eyes has performed in hundreds of porn movie scenes during her long and busy career that is still going on as of this writing. She shows no signs of slowing down and reportedly still loves every fuck scene she gets to appear in. Fans love her still thick and sexy body as well as her nice round ass. Angel is still not very public about her personal life and doesn't even use social media very much. It's a source of frustration for some fans but still more don't even care just as long as she continues to put out the hardcore performances that they love.
MORE PORNSTARS YOUR MIGHT LIKE
BACK TO PORNSTARS