Kayla Synz'S PROFILE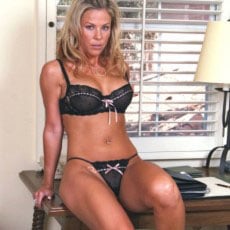 Kayla Synz
pornstar details
Date of Birth: 20/04/1972
Ethnicity: White
Height: 163cm
Eye Color:
Hair Color: Brunette
Kayla Synz is a blonde haired, green-eyed American pornstar who was born and grew up in the city of San Francisco, California. Standing at a petite 5 feet 4 inches and weighing only 121 pounds, she began her adult entertainment career with her natural A cup breasts, but in'2006 she upgraded her tits with implants, giving her impressive measurements of 34D-27-36. Other body modifications include a pierced navel and a pierced clit hood. Ms. Synz also has a tattoo of a dolphin which wraps around her right ankle and often appears with a heart shape on her right pelvic area, achieved by applying sunscreen in that shape when she tans. Over the course of her career Kayla Synz has been credited as Kayla, Kayla Sins, Kayla Sinz and Ms. Kayla.
Kayla is of Irish and Italian ancestry, and was brought up by her grandmother. As a native Californian, she has great pride in her home state, and has stated in interviews that she would never live anywhere else. In keeping with her true blue Californian mindset, Kayla is an avid beach-goer and enjoys an active lifestyle, working out and getting plenty of cardio exercise, which allows her to indulge her passion for cheeseburgers while still maintaining her toned and slender body.
Beginning her career in 2006, Kayla was already in her mid-thirties, and in retrospect it was perfect timing, as the porn industry had recently discovered that there was a lot of demand for MILF content. Given that she began her career in the thick of her dirty thirties, Kayla didn't pussyfoot around, slowly rolling out her onscreen performances with solo work and lesbian scenes, instead going for the gusto early, and getting down for some seriously hardcore double penetration sessions right out of the gate.'
Having grown up in San Francisco, moving down to the Los Angeles area for her porn career came as something of a culture shock to Kayla, as close as these cities are geographically, culturally they are quite different. Always a free spirit, Kayla was dating a guy who was quite happy for her to fuck other men, both on and off-camera. While she doesn't describe herself as bisexual, she still enjoys having sex with other women, though she primarily does it in on camera performances rather than in her private life. Her man is something of a rarity in that he prefers Kayla to bring home men rather than women, as he really gets off watching her get fucked, and having seen her performances, you can really get where he's coming from, though the prospect of an FFM threesome with Kayla and another hot babe might be more appealing for most. Taking things to the extreme, in interviews, Kayla revealed that the most guys she had done in one session was five, her boyfriend being one of them, who gangbanged the blonde hottie, though sadly this was not captured on film.
Keep in mind, when Kayla Synz started letting a dozen or more men fuck her on film, gangbangs weren't quite as common as they are today. Some might agree that it was her holes that helped pave the way toward the free and easy gangbang porn world we live in today, and for that we thank her profusely.
Kayla Synz retired from making porn movies 2010 after only four years in the business, appearing in over 95 titles over the course of her short, but productive career, in which she amply demonstrated her versatility as a sexual performer, doing everything on screen from lesbian scenes, group sex, anal sex and double penetration, gaining herself legions of adoring fans. If you want to see Shyla Synz in the performances that made her famous, you've come to the right place, Mr. Porn Geek!
MORE PORNSTARS YOUR MIGHT LIKE
BACK TO PORNSTARS