Daisy Marie'S PROFILE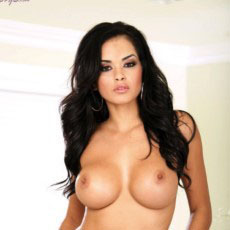 Daisy Marie
pornstar details
Date of Birth: 6/02/1984
Ethnicity: Latina
Height: 163cm
Eye Color: ??????
Hair Color: Black
Sexy pornstar Daisy Marie is a Mexican-American and she was born in Glendale, California. Standing at 5 feet 4 inches she is slim and petite and these days has several large tattoos on her body. She spent most of her early life growing up in the Salem, Oregon area and some time was spent in Mexico with extended family as well. When she was in her teen years, she was modeling already due to her lovely facial features and her well proportioned body. By the time she had turned eighteen, she knew that adult entertainment was the proper place for her to make a career. In fact it was only a few months after her eighteenth birthday that she began filming porn movies and participating in fully hardcore photo-shoots.
Always comfortable on camera, Daisy was remarkable to directors and photographers because she was never shy. Anything they asked her to do she was OK with as long as it was going to look good in the final production. Once her first few films were released, it was just a matter of time before she was flooded with more movie offers. She went through several different alias names including Maria, Brittania, Daisy Tattoo, Daisey, Daisy Dukes and various others before settling on her stage name. While she never liked the idea of getting breast implants and would even trash talk girls who did, she eventually decided to increase her tits from their C cup to a D size. After the surgery she was said to be very happy with them and even reportedly said that her nipples got even more sensitive to the point where she sometimes doesn't even wear a bra.
A very prolific performer, Daisy Marie has appeared in more than 433 titles during her career so far. The number of individual scenes is probably at least three times that amount and that doesn't even include all of her exclusive work and photographs. She loves to work with men and women and has no problem with group sex scenes either, often taking the lead role. Her sexuality is an always evolving thing and one of the parts of her career that she loves most is being able to explore every new kinky idea she can come up with. See her best scenes in the Mr. Porn Geek archive today and make sure to share it with your friends too!
MORE PORNSTARS YOUR MIGHT LIKE
BACK TO PORNSTARS