Alana Evans'S PROFILE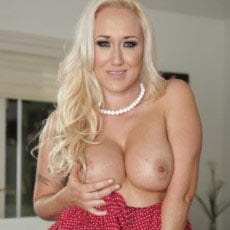 Alana Evans
pornstar details
Date of Birth: 6/07/1976
Ethnicity: White
Height: 165cm
Eye Color: Blue
Hair Color: Blonde
Alana Evans is a blonde pornstar with big fake tits. She told an interviewer that, at first, she didn't want to go under the knife to enhance her breasts, but then in 2007 she decided to go for it. Now her breasts are huge round double D cup globes that everyone loves to watch as they bounce around as she gets pounded by big black cock in an interracial sex scene, which is one of her favorite type of porn to shoot. You can tell because her first two scenes were with the now infamous Mr. Marcus in 1998.
Before Alana got into making porn videos for a living, she still had a salacious lifestyle. Alana was a swinger, meaning she probably went to some sex parties and swapped partners with other people, sucking and fucking whoever she pleased. She was married for a few years, and it was an open relationship, so that Alana could still feed her voracious sexual appetite. However, things didn't work out and Alana Evans has been single since then. She also worked as a stripper, dancing around a stage in revealing and skimpy outfits to make some money. Alana always knew that she would want to do porn, or maybe some other kind of sexy modeling, because of her love of making money and high sex drive.
Alana does it all. She loves to fuck in girl on girl lesbian sex scenes, and excels at pussy licking or strap on fucking. Alana Evans says she may have actually fucked more women off camera than in her porn scenes! She also loves extreme, degrading and humiliating sex like anal pounding, double penetration and gang bangs. The more extreme, the better it is for Alana. Also, now that Alana Evans has been in the industry for over 16 years, she has started to play some MILF roles as she enters the cougar age range. In addition to visual porn, Alana also likes to use her voice to titillate her fans. She has hosted multiple shows on Sirius and XM Radio.
However, even though most of her life is all about sex and porn, Alana Evans does have some extracurricular activities. She loves to play video games, and found a way to combine her two interests. She founded a website where girls play video games, live on camera, but the twist is that they are completely topless while they are playing! The site has become really successful with the geek and gamer community.
MORE PORNSTARS YOUR MIGHT LIKE
BACK TO PORNSTARS