Allysin Chayne'S PROFILE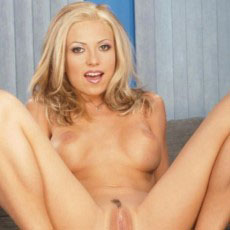 Allysin Chayne
pornstar details
Date of Birth: 11/02/1979
Ethnicity: White
Height: 152cm
Eye Color: Brown
Hair Color: Blonde
Allysin Chaynes is an American pornstar who was born in the country of Romania, but grew up in California's San Fernando Valley. While it's not her natural hair color, she invariably has blonde hair in her film appearances, and has beautiful hazel eyes. Her height is 5 feet even, and she quite lightweight at 94 pounds, with breast implant augmented measurements of 34C-23-32. Outside of her amazing tits, Ms. Chaynes has avoided any and all body modifications, with no tattoos and no piercings other than her ears. During her long career in adult entertainment, she's been credited with a wide variety of names, all various misspellings of her chosen stage name, including Alisin Chains, Allison Chaynes, Allyson Chains, Allysin Chains, Allison, Alysin Chaynes, and Allycin Chains.
Allysin got into the porn business at the tender age of eighteen, shooting her first scene with her then-boyfriend, Mark Vega who was also making his debut performance, after the pair had answered an ad in their local paper looking for new talent for adult films. While she was initially uncomfortable watching herself have sex on screen, saying she felt strange when she watched the footage, it all boiled down to her feeling insecure about her looks, and after her performance received such rave reviews from the people who saw it, she got over her feelings of inadequacy.'
While In interviews Allysin professes to love performing in adult film, stating that the money has been excellent, and she's forged lasting friendships with the people she's met through the industry, she cautions that a lot of work goes into the finished product, and that one scene you see that might be 15-30 minutes long can sometimes take anywhere from three to twelve hours to film, so contrary to appearances it can be a difficult and physically demanding profession for those who choose to go into porn as their chosen career.
Being a particularly small girl has been a challenge for Allysin, and in interviews, she's stated that there are some guys who simply won't fit into her petite pussy, which has resulted in her having to turn down certain roles, lest a production she's in grind to a halt. Her first career dream was to be a mainstream actress, but she has stated that it was not an attainable goal as she lacked the support structure in her home life and the funds necessary to chase after auditions while keeping a roof over her head. In retrospect, she also says that she was painfully shy prior to her porn career, not the best characteristic for an aspiring starlet. She did do some dancing for bachelor parties and the like, and talks about perhaps doing feature dancing, she's certainly has the body for it!
Perhaps best known for her role as Kelly the Coed, a smash hit of a film series that ran for over 20 films with Allysin in the title role, playing a horny sex-starved college student well into her 20s, her performances have also received industry recognition in the form of awards at the major industry shows including an XRCo Award for 'Cream Dream' in 2001.
Allysin Chaynes retired from the industry in 2007 after 10 years in the business and appearances in over 350 titles, though she still keeps in touch with fans via her Twitter account. PornHubPremium has assembled a collection of her hottest movies that are instantly available for your viewing pleasure!
MORE PORNSTARS YOUR MIGHT LIKE
BACK TO PORNSTARS