Asia'S PROFILE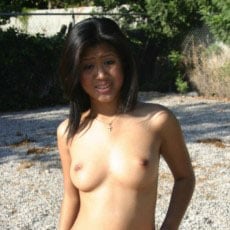 Asia
pornstar details
Date of Birth: 12/04/1986
Ethnicity: Asian
Height: 152cm
Eye Color:
Hair Color: Black
Asia is an internationally famous pornstar who sometimes goes by the name Ms. Asia or Asia Rain. Asia has an exotic look that comes from her mixed ethnicities of Thai, Cambodian, and Laotian. This Asian porn sensation is always trying something new for the porn cameras, and her fans love that they never know what crazy and dirty hardcore sex act she will perform next. Asia loves to perform in lesbian fucking scenes, where she licks a girls pussy or maybe even gets fucked by a big strap-on dildo. However, Ms. Asia's favorite fuck style is definitely group sex, threesomes or gang bangs, this sexy performer pleasuring multiple partners at the same time.
Watch Asia get her rocks off in Sex X Three 2, a hardcore porn film by Rapture Entertainment. In it, Asia sucks 2 guys hard cocks with her cock-hungry mouth and then gets fucked so hard that she screams and moans with pleasure. Asia just loves being used and fucked like a horny rag doll, since that's what makes her feel the most alive! Asia also does a hardcore gang bang in 3 Way Addiction by Vixen Pictures. Asia tries to pleasure two guys with her hands and her mouth, but ultimately she ends up getting all of her tight Asian holes pounded and used, until the guys cum all over her sexy body.
Asia is a completely dirty porn star who got her start pretty much when she turned 18. When you see her Asian body, it's easy to see why her fans love her. The tan beauty is petite at 5 feet tall and 103 pounds, but she still has some small curves that make her look good to fuck, with her 34B breasts and 32 inch petite ass. As soon as she joined the adult industry, Asia was performing in extreme sex scenes, including some double vaginal penetrations, anal fucking and internal cumshots in her pussy and ass, which Asia loves to let drip out to show off her reward from a fuck job well done.
MORE PORNSTARS YOUR MIGHT LIKE
BACK TO PORNSTARS