Shyla Styles'S PROFILE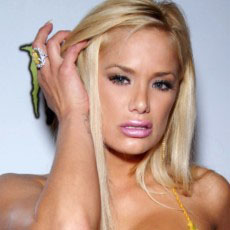 Shyla Styles
pornstar details
Date of Birth: 23/08/1982
Ethnicity: White
Height: 160cm
Eye Color: Blue
Hair Color: Blonde
Shyla Styles is a buxom blonde pornstar who comes from the province of British Columbia, Canada. She has numerous tattoos all over her body and piercings to her tongue, nipples and navel. Her heritage is part Canadian and part German and although she is quite petite, she is a sexual dynamo. Her adult career began around the year 2001 when she started working directly in feature porn movies. Not much is known about her life prior to her entry into the porn movie scene, but she certainly came well prepared and experienced. In 2003 she was the recipient of the AVN Best New Starlet award which is among the most sought after awards for girls new to the business. It was clear that industry insiders and fans alike had found someone new to follow and adore!
Styles found herself embroiled in a somewhat public sex scandal with a sheriff's department in California around 2005 or so. Reportedly one of the higher up employees of the department was indicted on several charges and her name was brought up in connection with the case. While there have been public newspaper reports on the incident, she has never come out with any comments other than to confirm that she was involved in the case. The description of her was as an "internationally famous pornstar" which no doubt pleased her on a professional level. In 2007 she was back on mainstream television with a Los Angeles show called "Un-Wired TV" and she also made a large number of porn movies around this time. She was named by Maxim as one of their top 12 female stars in porn too!
Shyla Styles has performed in more than 400 movies during her long and busy career. She has worked for all of the major porn producers in the country and indeed the world. As photogenic as anyone in the business, her image has graced magazine covers and websites alike. Porn fans follow her official Twitter account to see just what she'll be doing next. At PornHubPremium, you can browse the great selection of her movies and enjoy them over and over again if you want to! Grab a comfortable chair and see what made this fabulous blonde pornstar such a driving force in the industry and beyond.
MORE PORNSTARS YOUR MIGHT LIKE
BACK TO PORNSTARS