Cherry Poppins'S PROFILE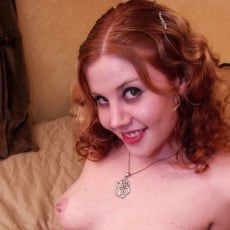 Cherry Poppins
pornstar details
Date of Birth: 20/05/1982
Ethnicity: White
Height: 163cm
Eye Color: Brown
Hair Color: Red
Cherry Poppins is a naturally redheaded American pornstar who hails from San Diego, California. Standing at 5 feet 4 inches with a weight of 112 pounds, and sporting measurements of 36C-24-34, she's an all-natural beauty! While she hasn't gone under the knife, she has had some body modifications in the form of a couple of tattoos, a 'tramp stamp' lower back tattoo, as well as a thematic pair of cherries tattooed on the right side of her pelvis. Cherry's body piercings include her right nostril, both nipples, and her navel. Alternate news under which she has performed include Cherry Poppans, Mrs. C. Essex, Cherry Poppens and Cherry.
Hoping to be a professional singer, Cherry fronted a punk band, X-Chromosome, however it is her career as a pornstar that has brought her fame and glory. Her career in adult films started in 2002, while she was around 20 years old, her first scene being a solo masturbation session, with a trip to shoot on location in Maui on just her second day in the business. In an online interview, Cherry related how awesome it was to get to go to Hawaii, a place she had long dreamed of visiting, and so early in her career, it was like a fantasy come true.
Cherry is a long-time vegetarian, and in interviews is quite strident in her views, vowing to never, ever eat animal products, saying she'd sooner do double anal, which she would never do, rather than eating a turkey for Thanksgiving.
Having made a name for herself with her interracial scenes, Cherry, who somewhat ironically chose her name based on a nanny character she had played in a school play so many years ago, says the the only scene she's filmed that she regrets, is one where she had interracial sex with a black 'little person,' not because that the sex was bad, or that she has anything against little people, but because that scene has dogged her in her personal life. When she goes back home to visit her family, that seem to be the scene that everyone in her old hometown seems to have seen.
In addition for the interracial action that has become something of her specialty, Ms. Poppens, has done a lot of lesbian scenes as well as some BDSM fetish work, which found her bound and severely tied in a number of specialty productions. Cherry Poppens has appeared in over 200 titles to date, and while she retired in 2010, her performances have made an indelible mark on the industry and continue to be re-released in compilations. Mr. Porn Geek, has a curated collection of only her best performances, all right here for your viewing pleasure, and all just a click away!
MORE PORNSTARS YOUR MIGHT LIKE
BACK TO PORNSTARS