Roxy Deville'S PROFILE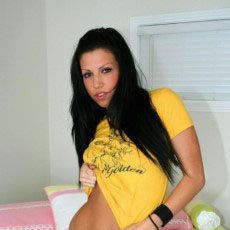 Roxy Deville
pornstar details
Date of Birth: 8/11/1982
Ethnicity: White
Height: 168cm
Eye Color:
Hair Color: Black
Roxy Deville is a smoking hot babe from the Midwestern state of Indiana. Her talent and enthusiasm for sex is apparent from the awards she has won for her work in smut. In 2008 she won an XRCO award for Unsung Siren, and the same year she won a CAVR award for Best Behind the Scenes Video.
Roxy's favorite thing to do in a porno is fuck her fellow costars with a strap on, especially if she is fucking them in the ass. Roxy has always wished that she had a penis, so she could see what it felt like, and wearing a big strap-on cock allows her to imagine that she has one, if only for a moment. However, she herself would never allow her butt to be penetrated on screen. It is the one barrier she kept during her time in the adult industry. Roxy also loves dirty sex, even with literal dirt, since she told one interviewer that she loves the smell of wet dirt!
Unlike many girls in porn, Roxy has a stable relationship with her boyfriend. He knows what she does and is ok with it, and even wants to hear about her day. Before porn, Roxy Deville had a wild sex life in which she would bring home girls from the club and fuck them or she would have extreme rough sex with couples. Since doing porn, her personal sex preferences have calmed down since she is able to get her need for interesting sex to feed her voracious appetite on set.
Roxy Deville's favorite types of porn to shoot are actually feature films with stories, not gonzo films, because they let her have fun acting out the scenes, and it's just more realistic than movies where a gang bang happens quickly. Her favorite movies to work on were some of the big budget softcore films she starred in on Cinemax and HBO. Roxy loves to get fucked in the pile-driver position on camera because it allows for a full and thorough hammering of her wet pussy.
Roxy has some interesting tastes. First of all, she loves clowns. Much of her home is decorated in a clown theme and she once made a porn where she fucked a rodeo clown. Roxy Deville also loves bondage. She's not into the super harsh BDSM, but she loves to get restrained while having sex and considers herself to be a submissive in the bedroom, even though she can be quite dominant outside of her sex life.
MORE PORNSTARS YOUR MIGHT LIKE
BACK TO PORNSTARS