Penny Porsche'S PROFILE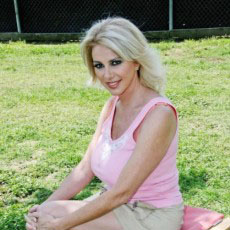 Penny Porsche
pornstar details
Date of Birth: 21/08/1961
Ethnicity: White
Height: 170cm
Eye Color: Hazel
Hair Color: Blonde
Penny Porsche is an American MILF pornstar who comes from the state of Ohio. This incredibly chesty, mature woman, made quite a name for herself, standing at 5 foot 7 inches with incredible measurements of 38F-28-38, achieved without implants, Penny took the world of MILF porn by storm when she began her career in 2004 at the ripe old age of 43.
Naturally a brunette, Penny invariably has blonde hair when she appears in XXX video, which certainly compliments her buxom physique. About halfway through her career she underwent breast reduction surgery to make her still big boobs a more manageable and firm set of DDs. Ms. Porsche has no tattoos or piercings outside of her ears. This being the porn business, Penny has a number of misspellings of her name and alternate credits in her filmography, including Penny, Penny Porsha and Penny Porshe.
Penny grew up in a small town in rural Ohio,'the last born of five siblings, and was sporting a set of full D-cup breasts by the time she was in high school. Slender and athletic, Penny enjoyed participating in track and field events at school, as well as riding motorcycles and dirt bikes. When she reached the age of majority, Penny lived in several places including New York City, but ended up settling down in living out her adult life in the Los Angeles metropolitan region. While she went through a period of her life where she took a lot of LSD, and smoked marijuana every day, it never became a problem for her, and by her mid-20s she had grown out of it.
These days, Penny is something of a health nut, and make sure to eat right, exercise, watching her diet, staying fit and working at keeping a positive frame of mind, to keep herself looking good, and there is no arguing with the result.
Penny's hot looks and gigantic breasts got her a lot of print work landing on the covers and centerfolds of Hustler's Busty Beauties, Swank, Gent, and Score Magazine, all eager to shoot her as she had truly large all-natural breasts with a slender body in contrast to most large breasted women who tend to be large everywhere else as well.
Penny's breasts are just the beginning of her appeal in porn, she also has an extremely prominent clitoris, which projects out above her vagina, and she is known for some extreme squirting when she's been adequately stimulated. Her breasts also lactate, which is an unusual trait that is prized in some circles.
A bright and vivacious personality, Ms. Porsche has a very quiet personal life, and while she loved the sex that her adult entertainment career brought her, was looking for the right man to settle down with, something that she felt her career posed a major obstacle to achieving.
Working at the same sales job for 24 years, which she didn't quit when she became a pornstar, led to her being surprised by the prevalence of porn these days, as people started recognizing her out in public, and more distressingly, at work, which so freaked her out that she took a year off mid-career to sort out her feelings on suddenly becoming porn-famous.
Penny Porsche retired in 2009, leaving behind an impressive filmography of 64 titles, and legions of fans that realized just how uniquely appealing this mature pornstar was. Mr. Porn Geek has a collection of some of Penny's most amazing films, all available for your immediate viewing, on demand.
MORE PORNSTARS YOUR MIGHT LIKE
BACK TO PORNSTARS