Flower Tucci'S PROFILE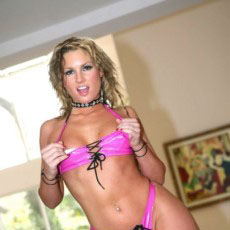 Flower Tucci
pornstar details
Date of Birth: 2/01/1978
Ethnicity: White
Height: 168cm
Eye Color: Brown
Hair Color: Black
Flower Tucci is a sexy blonde porn star who stands 5 feet 6 inches tall and weighs 125 pounds. What Flower is best known for in the porn industry is the way her pussy squirts juice when she cums during her hardcore fucking scenes. Ms. Tucci also has many fans who appreciate the way she takes a cock in her ass with enthusiasm in her anal sex scenes. In an interview, Flower said that women in the porn industry tend to take care of themselves better and have more fun in bed since they aren't afraid to ask for what they want. Flower also acknowledged that she is a complete voyeur as well as an exhibitionist, which is what makes the porn industry a perfect fit for her. Addicted to watching herself fuck, Ms. Tucci even has mirrors strategically arranged in her bedroom so she can watch herself from several angles while fucking at home.
Ms. Tucci got into the porn industry when she answered an ad for nude models in the paper. Flower had always been very confident, gained from her experience doing beauty pageants growing up. She was also popular and loved to play sports, but always had a rule never to sleep with a guy, in order to avoid bad rumors about herself. When she was 20, Flower had her first porn watching experience with a boyfriend who introduced her to the idea of voyeurism which she loved. Soon after, she was watching porn when she saw a girl squirt and Flower vowed to learn how to do that to herself. Through lots of masturbatory practice, Flower has risen to be one of the best known squirters in the porn business!
More than just a pretty face and a collection of willing holes, Flower Tucci is also a mainstream television star, featured on a TV show called Family Business on Showtime network, and she also hosted two of her very own radio shows.
You can catch Flower in one of her most compelling performances in a porn movie right here on Mr. Porn Geek, in a feature called California Bad Girls 3. The movie, by Insanity Pictures, features California babes who love big black cock. Flower gets her pussy pounded by a big black dick in a sizzling hardcore interracial sex scene. Flower's juicy curves have always attracted black guys, who tend to like her ample curves, and it's a good thing too since Flower Tucci is at her heart a true interracial slut, always up for some hot times with a well-hung black man!
MORE PORNSTARS YOUR MIGHT LIKE
BACK TO PORNSTARS