Penny Flame'S PROFILE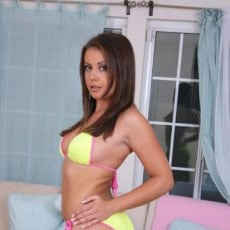 Penny Flame
pornstar details
Date of Birth: 22/02/1983
Ethnicity: White
Height: 160cm
Eye Color:
Hair Color: Brunette
The pornstar known as Penny Flame was born in Aurora, Colorado and raised in Oakland, California. Her body measures 36C-25-35 and she is only 5 feet 3 inches tall. There is only one tattoo in the middle of her back and one piercing to her navel. Her hair is usually worn dark but has been more towards the blonde side on a few occasions. Supposedly she took her stage name from a popular song by a famous band from Liverpool, England and she has even been known in a few productions as Penny Lane. After graduating from school she began working in various jobs such as barista and waitress but quickly grew tired of the low pay and long hours. After scouring both local and regional online classified advertisements she responded to one from San Diego that eventually lead her to nude modeling and then performing in porn movies. Reportedly she loved working in porn because it allowed her to work as few as three days a week and still make very good money. The words from one of her first producers also stuck with her and what he had reportedly said was that she didn't have to do anything that she didn't want to.
One of her early appearances was in the film "Sex Addicts" which was directed by Brandon Iron in 2002. Her scene comes at the end of the film and she is with Chris Charming outdoors. She takes her top off and after sucking on her tits he licks her pussy and then she gives him oral sex in return. They fuck in several different positions and she rides his cock like a professional, moaning and grinding her hips against him. At the end he gives her a facial cumshot and she receives it with an open mouth and eager tongue. Penny is a slutty girl who is just as happy to lick pussy as to suck cock. Her awards include Best Solo Sex Scene, Best Couples Sex Scene, Best Group Sex Scene and even Best Actress.
Penny Flame retired from working in porn after 455 movie appearances and took part in the television show "Sex Rehab with Dr. Drew." She has also appeared on many television talk shows to discuss her sex addiction and her role in adult films. She is an active writer and blogger and she has had her share of personal struggles unrelated to her adult entertainment work. Her thousands of great fuck scenes will always be new to someone and Mr. Porn Geek has most of them right here for easy viewing.
MORE PORNSTARS YOUR MIGHT LIKE
BACK TO PORNSTARS